Remember her name—Singer and composer Alberta Hunter
Herb Boyd | 11/30/2017, 3:54 p.m.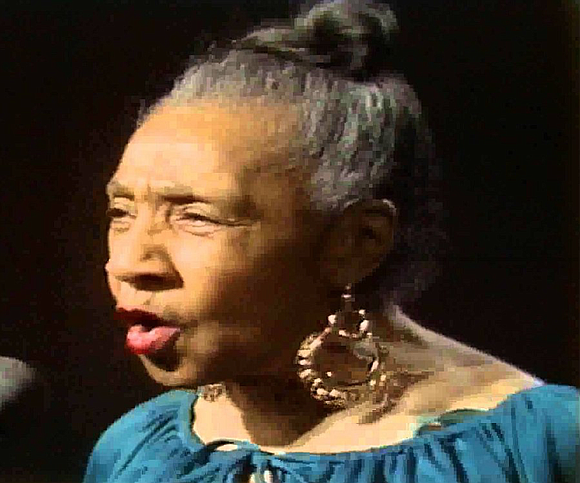 There's a large blowup photo/poster of famed singer Alberta Hunter in the office of the Edwards Sisters' Realty in Harlem. Hunter's naked body is partially covered and at the bottom of the photo is her inscription to a Charlie Parker. How the photo got to the office, who owns it and its value have baffled even experts. Less mysterious is the acclaim Hunter received—much of it as an elderly matron of the blues—as a singer and composer, and a real pioneer in the recording industry.
Hunter was born in Memphis April 1, 1895. Her mother worked as a maid in a brothel and her father, who she never knew, was a Pullman porter. She attended Grant Elementary School, despite a difficult childhood that included desertion by her father.
Hunter's mother remarried when Hunter was 11 and had another child. Unhappy with her position in the family, she left for Chicago at age 16 with a friend, with the intention of beginning her singing career. But the expectation of earning $10 an hour singing didn't pan out, so she worked in a boarding house making six dollars a week, including room and board. Soon afterward her mother, who had separated from her husband, joined her.
She was still a teenager when she began singing in the local bordellos before moving on for engagements at the Black and white men's clubs. Her musical development was greatly enhanced after she began receiving lessons from Tony Jackson, a prominent pianist and teacher. Performances at Dago Frank's, Hugh Hoskins' Saloon, the Panama Club and most notably at the Dreamland Café, where she was featured with the immortal King Oliver and his Orchestra, bolstered her emerging popularity.
Beginning in 1917, she was featured at the Dreamland ballroom for five years, and her salary rose incrementally each year to $35 a week. During this period, she branched out to Paris and London, and the respect she received there embellished her renown in America. Along with a headlining career in clubs and onstage, Hunter devoted more time to composing songs, including "Downhearted Blues" in 1922 with Lovie Austin. She recorded the song with the pioneering record producer and pianist Perry Bradford. Later the song gained even greater recognition and royalties when recorded by the great Bessie Smith for Columbia Records, although Hunter was cheated out of the money it earned.
Recording with Bradford opened doors for opportunities with other companies, and there were sessions with Black Swan Records, putatively the first African-American owned recording company, and Paramount, Gennett, Okeh, Columbia and Victor. Under the pseudonym May Alix, she also recorded for Harmograph Records.
In 1928, Hunter had her debut as an actress, co-starring as Queenie with Paul Robeson in the London production of Jerome Kern's "Show Boat" at Drury Lane. Meanwhile, her recording career accelerated, with a long stint at the Dorchester Hotel in London, with Jack Jackson's Society Orchestra. Her rendition with Jackson of Cole Porter's "Miss Otis Regrets" was widely acclaimed. She was also featured in "Radio Parade of 1935," the first British theatrical film.