Star of HBO's 'The Deuce' returns to NYC for one-woman show
NADINE MATTHEWS | 11/30/2017, 3:54 p.m.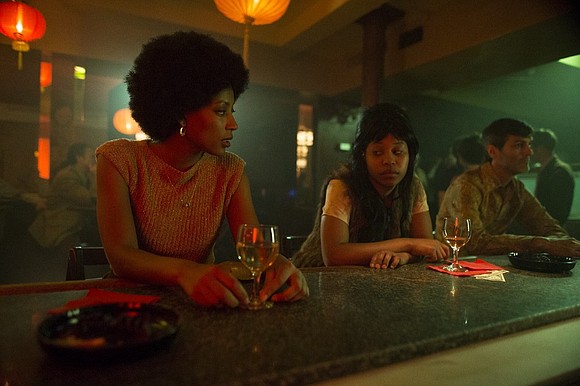 For actress Dominique Fishback, life was like a dream during her high school senior year. "My senior year was out of a movie because I was MVP and captain of the basketball team," she said. "I went on to win prom queen and was valedictorian. I was just super excited."
Fishback then went on to Pace University and her college experience cast a bit of shadow on her fond memories of high school. It revealed to her the ways that she had in fact been shortchanged at her Brooklyn high school.
Most recently, we've been able to see the 22-year-old dynamo on the critically acclaimed HBO series "The Deuce," which also stars James Franco ("The Disaster Artist"), Method Man ("All Eyez on Me"), Gbenga Akinnagbe ("The Wire," "Crown Heights") and Natalie Paul ("Show Me a Hero"). Fishback, who will be doing a one-woman show at New York City's Abingdon Theatre Dec. 4, plays a sweet-natured sex worker, Darlene. Fishback didn't accept the role lightly. The concern that the character might be perpetuating the stereotype of the Black woman as sex worker weighed on Fishback a bit before she accepted the role. Several things finally convinced her to go ahead and do it.
She explained, "I had done 'Show Me a Hero' with David Simon [showrunner of 'The Deuce' and the HBO classic 'The Wire'], so I already knew him as a storyteller and it made it easier for me to consider the role."
She also took her mother's feelings into account. She recalled, "I spoke to my mom about it and she said, 'Dom, you're an actress. If you're OK with it, I'm OK with it.' I've always been very close to my mother, so when she gave me the green light, I felt more confident in going in that direction."
Fishback also has her own strong opinions, rooted in her identity as an artist, on the subject. She said, "People will say why do they have to put Black women as sex workers and Black men as pimps, but when you're telling a history, it's not always going to be pretty. For me, I just wanted to play a role and I prayed about it, and once I prayed about it I was good."
Playing Darlene has taught Fishback a bit about herself—her own sexual self. "The fun thing for me," she said, "was actually playing someone who was more comfortable in her sexuality. That's not something I grew up being OK with."
Fishback was something of a tomboy growing up in her Brownsville, Brooklyn neighborhood, where she was very close with her cousins. "I was very athletic and wearing basketball shorts and my cousins would wear skirts," she said. "I tried wearing skirts and ended up on the streets playing basketball. It always intrigued me, but it was just never in my heart to have that sexuality. Being able to dig deeper and understand a person who actually leads with that is fun. That's what acting is about. It's not about playing ourselves. It's about understanding other people."