Touro College Graduate School of Social work addresses forgotten citizens
11/30/2017, 4:03 p.m.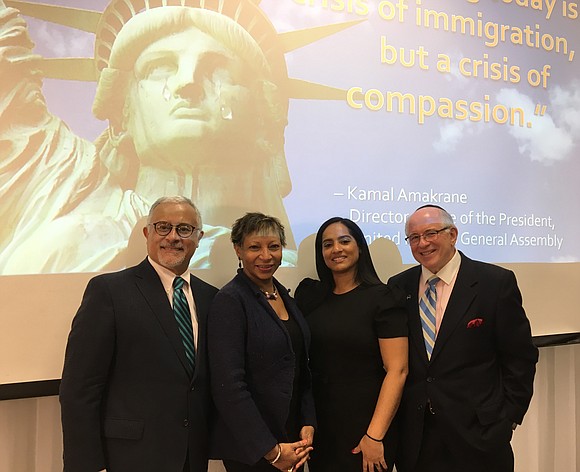 Children of undocumented parents live in fear that their parents will be arrested. They are hypervigilant in their surroundings. They almost always fear the Immigration and Customs Enforcement raid, and there's never a respite from the dread of what might happen, said Dr. Luis H. Zayas, dean and Robert Lee Sutherland chair in Mental Health and Social Policy at the Steve Hicks School of Social Work and professor of psychiatry, University of Texas at Austin.
Zayas spoke recently at the Touro College Graduate School of Social Work about the heart-wrenching daily struggles that undocumented immigrants and their U.S.-born children endure in the face of potential parental deportation. 
"If a parent comes home late, they fear they have been deported," he said. "They experience anxiety, depression, social isolation and withdrawal; behavioral and attention problems; and clinical levels of behavioral disorders. They live by two rules: Don't talk and sit still. For every two undocumented immigrants deported, one child is affected."
The author of "Forgotten Citizens: Deportation, Children and the Making of American Exiles and Orphans" (Oxford University Press, 2017), Zayas said 4.1 million U.S. citizen-children live with at least one undocumented parent, according to estimates of 2009-2013 census data; 5.9 million live with an undocumented family member, according to estimates of 2010-2014 census data; and roughly half a million experienced the apprehension, detention and deportation of at least one parent between 2011 and 2013, according to ICE data.
Constantly concerned that their undocumented parents will be required to return to their native countries, children will struggle not to draw attention to themselves or their families. But with their unrelenting angst, they are prone to selective mutism—speaking only to family, feelings of shame or guilt and suicide attempts, said Zayas.
Fear knock on door could be ICE
"You seldom see the child of an undocumented immigrant throwing a tantrum in Wal-Mart, simply because they can't," Zayas said. "They know they will create a problem for their parents and must be hypervigilant, since a knock on their door could be ICE."
Furthermore, children who leave the U.S. with deported parents have no guarantee that they will be happy, or even healthy, in their new home. In their parents' native towns and villages, they might face language and cultural barriers, health care and schooling might be nonexistent and food supplies might be limited. Remaining in the U.S. with extended family members is no panacea either, because they stand to suffer from the loss of their parents' daily presence, love and attention.
To make a compelling case for undocumented immigrant parents to remain in the U.S. mental health professionals must prove that deportation will result in an "exceptional and extremely unusual hardship" for the children. "We just have to take lemons and make lemonade," Dr. Zayas said.
Other speakers addressed trauma interventions and the immigration experience
Other speakers at the Touro social work symposium titled "Immigrants and Refugees in America: How Social Work Makes a Difference" included Dr. Nadja Graff, Touro's vice president, Division of Graduate Studies; Dr. Steven Huberman, dean of Touro Graduate School of Social Work; Allison Bobick, director of student advancement; Rosa Bramble, a licensed clinical social worker who conducts psycho-social evaluations and provides testimony for immigration-related hearings, political asylum and trauma-informed interventions; and Leidy Deleon, an MSW student at Touro who immigrated from the Dominican Republic.