58 killed, 515 hurt in Las Vegas Strip massacre
Susannah Cullinane, Holly Yan and Euan McKirdy, CNN | 10/2/2017, 10:21 a.m.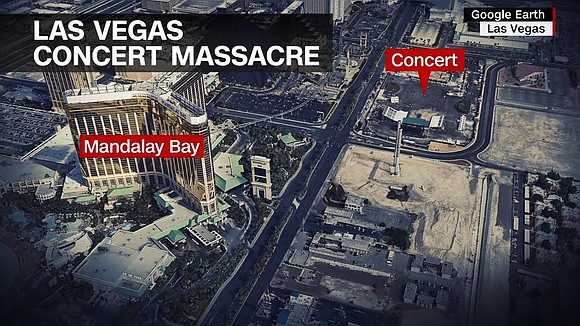 (CNN) -- Thousands of country music fans ran for cover as a gunman fired on them from a hotel on the Las Vegas Strip.
At least 58 people were killed Sunday night when the shooter fired hundreds of bullets into the crowd, police said.
Another 515 people were hurt in the gunfire and ensuing stampede at the outdoor Jason Aldean concert.
Alexandria Cheplak called her father as she ran from the bullets.
"Everyone's dying around me," Jon Cheplak recalled her saying. "Everyone's dying. They shot my friend ... I've got to get out of here."
The gunman, identified as 64-year-old Stephen Paddock, unleashed a hail of bullets from the 32nd floor of the nearby Mandalay Bay Resort and Casino, Las Vegas Metropolitan Police Sheriff Joseph Lombardo said.
But why the massacre happened remains a mystery.
Latest developments
-- Police found 10 rifles inside Paddock's hotel room, Lombardo said. "We believe the individual killed himself prior to our entry," the sheriff said.
-- The gunman's brother tells CNN he was aware Paddock owned guns, but was not aware of any automatic weapons.
-- President Donald Trump says he will visit Las Vegas on Wednesday.
Festival turns into massacre
The massacre started around 10:08 p.m. Sunday (1:08 a.m. ET Monday) at the Route 91 Harvest festival, Lombardo said.
Taylor Benge was enjoying the concert with his sister when he heard a relentless onslaught of "200 to 300" bullets.
Benge lauded the heroics of his sister, who "threw herself on top of me and said, 'I love you, Taylor,'" he said.
"Even after an hour and 30 minutes, I didn't know if I was safe."
Witness Bryan Hopkins said he survived by jumping into a walk-in freezer at the Mandalay Bay hotel.
And country singer Jake Owen, who was on stage with Aldean, said children were among the crowd.
"I saw kids on their parents' shoulders tonight," he said. "This is something they'll never forget."
The investigation
Police said they believe Paddock acted alone. "Right now, we believe it's a sole actor, a lone-wolf-type actor," the sheriff said.
So far, the massacre has no known link to overseas terrorism or terror groups, a US official with knowledge of the case said.
And a woman who was described as a "person of interest" after the attack is now not believed to be involved in the shooting, police said in a statement.
"Marilou Danley is no longer being sought out as a person of interest," the Las Vegas Metropolitan Police Department said. "LVMPD detectives have made contact with her and do not believe she is involved with the shooting on the strip."
The gunman's brother, Eric Paddock, said he was stunned to learn Stephen was responsible for the deadliest mass shooting in modern US history.
"He was my brother, and it's like an asteroid fell out of the sky," Eric Paddock told CNN outside his home in Orlando, Florida.
The last time he spoke to his brother was when Stephen texted him, asking how their mother was doing after losing power from Hurricane Irma.