'The Mayor' brings timely laughs to politics
Brian Lowry, CNN | 10/3/2017, 10:37 a.m.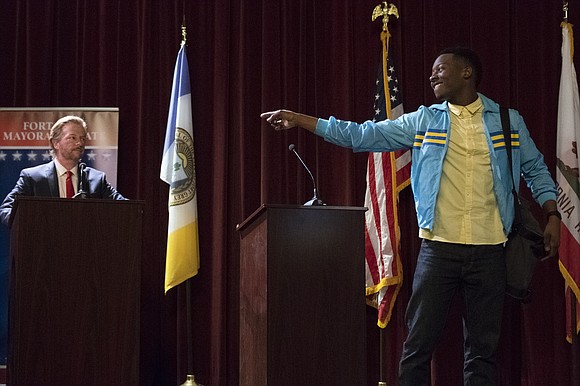 (CNN) -- OK, stop if you've heard this one: A guy enters a political race as a publicity stunt to help boost his brand, and actually winds up winning and faces the thorny challenges of holding elected office.
ABC's "The Mayor" might seem like a small-scale version of another duly elected leader, but it's among the fall TV season's more promising series, with the disclaimer that the protagonist's shtick might begin to get old before he completes a season, much less a full term.
The reluctant leader is Courtney Rose (Brandon Micheal Hall), an aspiring rapper who figures the name recognition will help him sell records. But his homespun appeal unexpectedly woos voters, leaving him, his mom (Yvette Lee Brown) -- the sober voice of reason -- and his fun-loving buddies grappling (Bernard David Jones, Marcel Spears) with responsibilities he hadn't anticipated.
Enter Valentina ("Glee's" Lea Michele), who had supported his opponent but now volunteers to become his chief of staff, showing him the ropes on this whole mayor thing. Their interplay is certainly familiar -- he's the free spirit, she's the buttoned-up scold -- but proves pretty charming nevertheless.
That said, it's not entirely clear how much life there is in the premise, with the premiere -- in which Courtney has to choose between fulfilling his governing duties and pursuing a rap gig that could advance his career -- nicely setting up a central tension that might not wear especially well over time.
"The Mayor" joins ABC's Tuesday lineup -- following "Black-ish" -- along with "Kevin (Probably) Saves the World," a series most notable for its star, Jason Ritter, playing an aimless guy who is understandably shocked discover that he is a "righteous soul" and thus key to the world's salvation. Think of it as "Joan of Arcadia," only with a sex change.
So when you juxtapose "The Mayor" with that hour and the other new comedies making their debut this week -- Fox's "Ghosted," which pairs Adam Scott and Craig Robinson as two guys preoccupied with alien abduction; and "9JKL," starring Mark Feuerstein in a semi-autobiographical tale about an actor who moves into family-adjacent unit in a New York high-rise -- it looks like the week's most promising candidate.
Granted, that might not sound like a ringing endorsement to make Tuesday comedy great again, but it should at least be enough to get "The Mayor" through the primaries.
"The Mayor" premieres Oct. 3 at 9:30 p.m. on ABC.