Domestic Terrorism: The Las Vegas massacre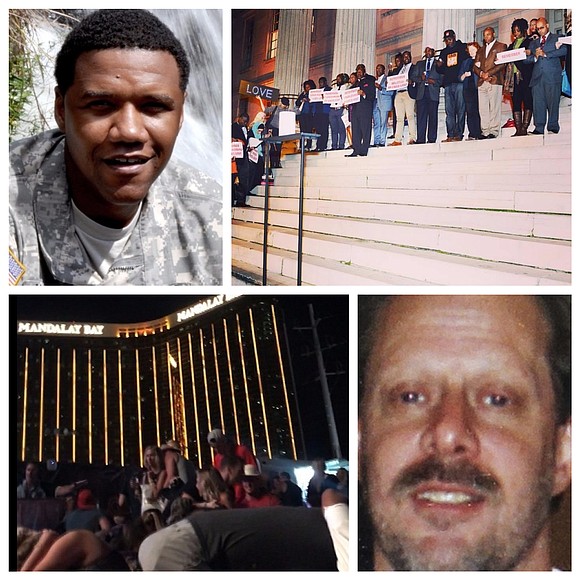 Stephen Craig Paddock was a domestic terrorist whose shooting rampage killed 59 people and injured 530 others during a music festival in Las Vegas Sunday.
Criticism is being voiced about how Paddock is being treated by the media and U.S. government. Being an older white male and not fitting the so-called description of a terrorist, many believe Paddock is getting special treatment.
"There's a clear difference in the way this kind of incident is treated and the way it would be treated if it were actually associated with Islam or Muslims," Ibrahim Hooper, representative at the Council on American-Islamic Relations, said in one report. "It would be instantly called an act of domestic or even international terrorism; it wouldn't be individualized, but collectivized to the entire Muslim community or faith of Islam."
Tapping in to a certain sentiment, thoughts on social media stated, "Muslim shooter = entire religion guilty. Black shooter = entire race guilty. White shooter = mentally troubled lone wolf."
Reports indicate that Paddock, 64, opened fire from his room on the 32nd floor of the Mandalay Bay hotel just after 10 p.m. He fired hundreds of rifle rounds, raining bullets on the 22,000 concertgoers at the Route 91 Music Festival where country singer Jason Aldean was performing.
Paddock was found dead by police in his hotel room. He apparently shot himself when police arrived. Law enforcement reports that they found 23 firearms in the hotel room and the windows were knocked out with hammers. No motive has been determined.
Among the victims is 34-year-old Black Las Vegas police officer Charleston Hartfield who was also a sergeant in the Nevada Army National Guard and a youth football coach. He was off-duty attending the concert at the time of the shooting.
Locally, on Tuesday night, Brooklyn Borough President Eric Adams led a vigil for the victims of the Las Vegas shooting. The gathering was aimed to bring attention to the ongoing issues of gun violence and attended by Public Advocate Letitia James.
"We said 'never again' after Virginia Tech, and after Fort Hood, and after Aurora, and after Newtown and after Orlando," Adams said. "Now, after the massacre of at least 59 people in the Las Vegas shooting, what do we say? We say 'never again' after every act of senseless gun violence, yet the death toll continues to climb."
Since the shooting, gun control has also been a topic of discussion. Several local politicians have spoken out about the need for better gun laws in the nation.
"We must call this heinous act for what it is, an act of domestic terrorism that has taken the lives of our fellow sisters and brothers," said Assemblymember Michael Blake. "Let us provide the support to deal with the trauma that this pain will bring onto our people and continue to support organizations in our communities seeking to address and reduce gun violence, even when the cameras are gone. It is not the time to claim rights to bear arms."
NAACP Interim President and CEO Derrick Johnson said that thoughts and prayers for the victims should be turned into action.