Elombe Brath 'showing' us the Way
Herb Boyd | 10/5/2017, 10:18 a.m.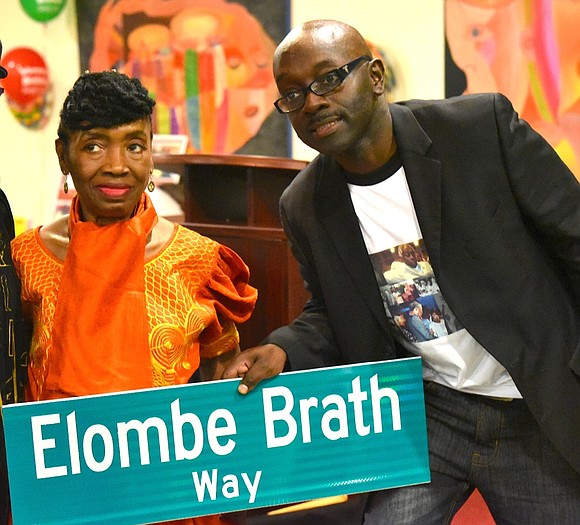 Like the hundreds who attended Elombe Brath's events at the Harriet Tubman School in the past, there was a sizable crowd in the heart of Harlem last Saturday for a street co-naming ceremony in honor of the esteemed "freedom fighter," as he was repeatedly called.
Since his death in 2014, the Elombe Brath Foundation and a corps of community activists have persistently demanded the corner at 125th Street and Adam Clayton Powell Jr. Boulevard, "African Square," be co-named Elombe Brath Way, and it arrived under a foreboding sky with thick clouds and chants of his name from speaker after speaker.
After the traditional African ceremonial libations by Nana Camille Yarbrough and a percussion choir, Cinque Brathwaite, one of Elombe's seven children and president of the Elombe Brath Foundation, moderated what Yarbrough defined as a "dream event."
"Elombe was a family man who brought us closer to Africa," she intoned before offering a sustained ululation in tribute to Brath.
During his turn with the microphone, former Mayor David Dinkins recalled the time Nelson Mandela appeared near the same location in the summer of 1990, a celebration that Brath helped to engineer. In his customary way, Dinkins reminded the audience that "everybody stands on somebody's shoulders."
Robert Gumbs recounted some of those shoulders with his history of African Jazz-Art Society and Studios, of which he was a member. "Elombe," he said, "saw Carlos Cooks, Clennell Wickham and Professor Rayfus Williams as his mentors."
Gale Brewer, president of the Borough of Manhattan, and Dr. Georgina Falu, co-founder of the Elombe Brath Foundation, cited Brath's tireless commitment to liberation and his ever-evolving internationalism, respectively. Falu observed how important Brath's voice and vision would be in the current political and environmental calamities.
It took the combined commentaries of Dred Scott-Keyes and Mario Murillo to indicate the significance of Brath's role in the world of broadcasting, particularly from behind the microphones at WBAI. "His program Afrikaleidoscope was perfectly named," they both insisted, "and he taught us so much about radio and WBAI."
Brath's reach went far beyond radio and his role as the founder of the Patrice Lumumba Coalition, which sponsored the many evenings at Harriett Tubman School. A list of his accomplishments was enumerated by attorney Roger Wareham. "Elombe was a co-founder of the December 12th Movement, and he stood strong in his support of the Central Park Five," Wareham said to thunderous applause.
Kevin Richardson, one of the Central Park Five, echoed Wareham's remarks, adding, "I am forever grateful to Elombe."
"Elombe spoke truth to power unrelentingly," said Councilman Charles Barron, substituting for his wife, Assemblymember Inez Barron. "He gave us the courage and truth we needed in our fight against white supremacy and imperialism."
Standing in for her son, Newark Mayor Ras Baraka, was his mother Amina Baraka, and she invoked John Coltrane in her salute to Brath. "I found me in Africa," she said, and that was part of Brath's mission.
In her extended comments, Black Rose, one of the original members of the Grandassa Models that Brath co-founded, placed his legacy in proper context with her evocation of the names of Max Roach and Abbey Lincoln (Aminata Moseka).