Judge and the Yankees power their way to the ALDS
Jaime C. Harris | 10/5/2017, 1:18 p.m.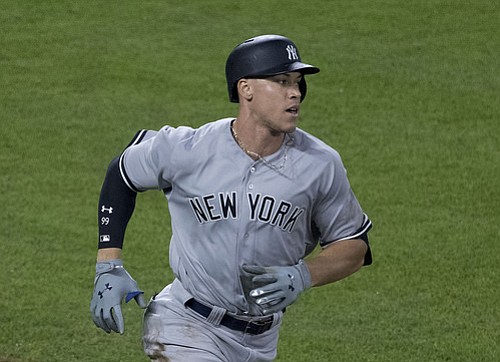 Forget Aaron Judge having postseason jitters. If there was any concern that the Yankees prodigious rookie would show signs of nervousness under the beaming lights of playoff baseball, he resoundingly put those concerns to rest Tuesday night.
The 25-year-old right fielder, who is a lock to win the American League Rookie-of-the-Year Award and a leading candidate for Most Valuable Player, was 2-for-4 with three runs scored, accentuated by a two-run home run in the bottom of the fourth inning to give the Yankees a 7-4 lead over the Minnesota Twins in the AL wild card game. The Yankees closed the night with an 8-4 victory and will now face the Cleveland Indians in one of two best-of-seven American League Division Series beginning tonight (Thursday) on the road. The Houston Astros and Boston Red Sox will meet in the other ALDS.
After falling behind 3-0 in the top of the first inning as the Twins touched up Yankees starter Luis Severino out of the gate, the aptly dubbed Bronx Bombers tied the game in the bottom of the frame off of a three-run shot by shortstop Didi Gregorius.
"We've had a quite a few games where we've gotten down early," said the 6-foot-7, 282-pound Judge. "Just keep battling. Just stay calm. Just play your game, and good things will happen." The Yankees called on that philosophy as the bullpen pitched 8 and 2/3 innings, relinquishing just one run, and allowed the big bats to double the Twins' run output.
Although the Yankees (91-71 in the regular season), who finished second to the Red Sox (93-69) in the American League East and arguably have as good a bullpen as there is in baseball, possess the necessities to find their way to the World Series, their starting rotation must be solid if they are, first and foremost, to get past the Indians.
C.C. Sabathia, Masahiro Tanaka, Sonny Gray and Severino need to string together strong starts to avoid Yankees manager Joe Girardi having to overtax his pen. The Indians were unequivocally the AL's best team during the regular season with a record of 102-60 and debatably the best in the entire sport. Only the 104-58 Los Angeles Dodgers had a better mark. And their manager, Terry Francona, has been through many battles against the Yankees as the former manager of the Red Sox, the team with which he won two World Series titles.
The pick here is the Indians in six games in what should be a compelling series.