New York City Ballet's Taylor Stanley leaps into history
Zita Allen | 10/5/2017, 2:01 p.m.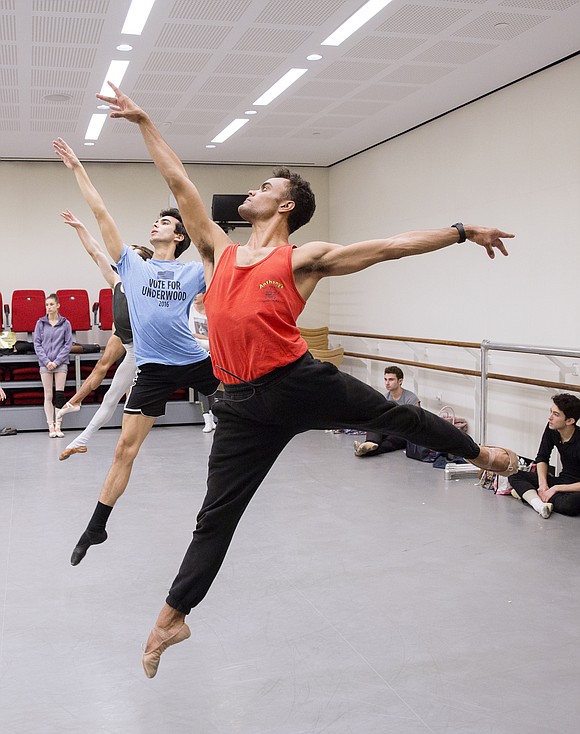 When Taylor Stanley was promoted to principal at the New York City Ballet by Artistic Director Peter Martins, he was thrust into a spotlight shared with only a handful of others, most notably the ebullient, late Albert Evans and the venerable Arthur Mitchell, whose promotion by NYCB founder and Artistic Director George Balanchine made him the first African-American principal dancer with any of this country's major ballet companies.
The 25-year-old Stanley's technical brilliance and fluid elegance prompted NYCB Resident Choreographer Justin Peck to call him "one of the purest interpreters of movement that I've come across." Ironically, although Stanley says he's ordinarily a bit shy, even finding a spot in the back of the studio during class, he shines onstage.
But why wouldn't he—after all, dance has been his passion since he was 3 years old, growing up in West Chester, Pa., the son of an African-American chemist and an Irish nurse, taking classes at the Rock School for Dance Education and exploring a range of movement styles. "I wanted to be a hip-hop dancer," Stanley explained. "I grew up doing jazz and modern and hip-hop and stuff. So I think my roots initially were in the jazz contemporary category. That's why, when I was around 12 years old, I envisioned moving to Los Angeles to explore more contemporary dance."
Even now, this passion for the contemporary shines through in his performances. He said, "As much as I love classical ballet and as much as I'm fortunate to have been encouraged to proceed in that direction, I feel grounded in that sort of movement and that's like a huge foundation for what comes out of me classically sometimes. He added with a smile, "Not all the time." Although Stanley always seems to dance with no holds barred, he admits to dancing with particularly joyful abandon the day he was promoted. He recalled, "It was just before I went on in 'Hallelujah Junction,' Peter Martin's piece. I was going on for someone who had gotten sick or injured. It was sort of a last minute thing and I did rehearsal during the day. I was backstage putting on my shoes. Someone said, 'They're calling for you onstage.' Peter was there and he pulls me off to the corner of the stage and says, 'I wanted to do this for a long time but now is the time: You're being promoted.' I was like 'Are you sure?' It was a cool moment. Then, of course, I had to dance better than I ever had danced before."
That promotion launched the next phase of a career that has traveled a unique trajectory. Stanley explained, "I honestly didn't really know much about NYCB or its official School of American Ballet until I went to the Miami City Ballet summer course in 2006 and 2007. There I met students from SAB who encouraged me to audition. A teacher at the Rock School, who had danced with the company, also encouraged me. I was very much encouraged to come and audition and see where things went. The summer of 2008 was amazing. I learned a lot about this world." It also led Stanley to enroll in SAB full-time in the fall of that same year. One year later, he became an apprentice with NYCB, and one year after that he joined the company as a member of the corps de ballet only to be promoted to soloist in February 2013. Now, as a principal, he has advanced to a position in a major American ballet company few dancers and even fewer