New York City Ballet's Taylor Stanley leaps into history
Zita Allen | 10/5/2017, 2:01 p.m.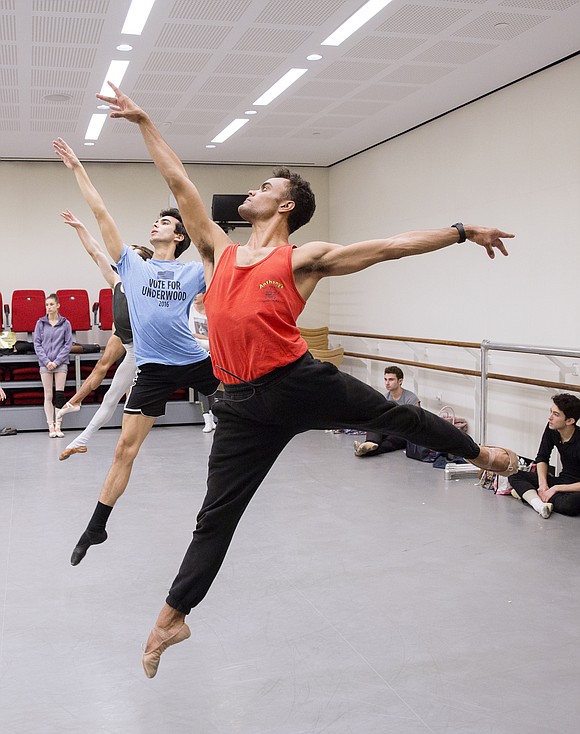 men of color reach.
With a daily schedule that often begins with spending precious time with Theo, his 6-year-old dog, then grabbing breakfast and dashing off to company class followed by rehearsals that can keep him in the studio until 6 p.m., he is enjoying the artistic life. It is one filled with exciting variety distinguished by Balanchine's masterpieces, such as the dramatic "Nutcracker" and "A Midsummer Night's Dream," or music visualizations, such as "Jewels" and "Symphony in Three Movements." There are also Martins' "Sleeping Beauty" and "Swan Lake" and, yes, "Hallelujah Junction," among others.
In addition to having works by these and other exciting choreographers under his belt, this fall 2017 season, Stanley will perform in Alexei Ratmansky's "Odessa" and make his debut in Martins' lushly romantic "Red Violin" (Oct. 7) set to a concerto for violin and orchestra, which is by turns faint or frenzied with languid duets punctuated by impassioned moments.
Asked how it feels to have stepped into the rarefied atmosphere, Stanley exuded humility as he fondly recalled taking a class with the first NYCB African-American principal, Arthur Mitchell, saying, "I remember how excited, joyful and energetic and passionate about ballet he was. His career and his place in NYCB has always been a vision that I've looked up to. It has encouraged me to say, 'I can do this, too.'" When asked about the impact the current conversation about diversity in ballet has had on him, Stanley paused for a moment, and then said, "I think there needs to be more diversity, absolutely. Ballet is making progress in monumental ways, but it's interesting to say someone is the first Black or the first Asian or the first Hispanic. It's like, why didn't this happen sooner? Sometimes you don't know whether to feel comfortable or uncomfortable, to celebrate or not. It's like of course this person is going to stand out because of their skin color, but they're artists first, and at the end of the day
that's what matters."
And as for advice to younger dancers hoping to follow in his footsteps, Stanley had a few words of encouragement: "To young dancers I would say explore this world to see if this works for you. Do as much research and envisioning as you can and really reach for your dreams but stay in touch with everything else that's happening in the dance world. Do not put all your eggs in one basket. Diversify your experience. Stay open."