New Yorkers focus on hurricane-hit Caribbean rebuild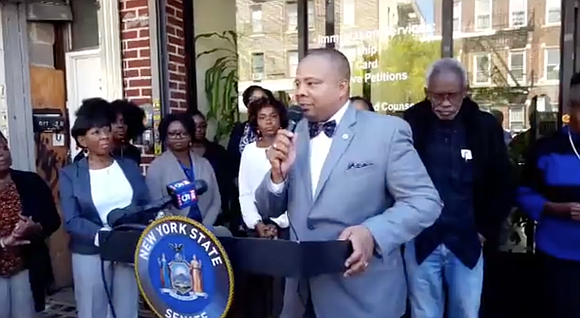 "Maria has finally left us, Lee is still around, but not posing a threat. Nothing else on the horizon, just a tropical wave a long way away and another one just rolled off Africa. No indication that they will develop into anything yet. So a little peace and quiet. Time to focus on recovery," Caribbean Hurricane Network quoted on their site http://stormcarib.com last week. "Many islands in the Caribbean are hard hit, let us not forget that! Dominica, St. Croix, Puerto Rico, Barbuda, St. Maarten/St. Martin, Anguilla, St. Barts, Tortola, Virgin Gorda, St. John, St. Thomas, Vieques, Culebra…The high season tourist season is a bust for these islands, which means a loss of their main source of income…Recovery won't be easy, but we have to try our best."
Meanwhile, as the mainstream media all but ignores many of the islands devastated by hurricanes Irma and Maria, Black folks in the tristate area and beyond concentrate on a variety of grassroots relief efforts.
Brooklyn-based attorney Brian Figeroux said that as lots of everyday people roll up their sleeves to join efforts to assist people in the Caribbean diaspora, communities should monitor the official responses too.
"Puerto Rico and other Caribbean countries were devastated by recent hurricanes which totally or partially destroyed homes, economies, but more importantly the hope for many people battling poverty. Who will be the heroes? Aid from the United States, France, England, the Dutch, all former colonists or the United Nations?" asked Figeroux.
Coordinating a Brooklyn joint effort among several social service agencies, the Office of Senator Jesse Hamilton presented an initiative called the Caribbean Relief Project to offer critical services to help the victims of Hurricane Maria and Hurricane Irma.
Hamilton stated, "In the aftermath of Hurricane Irma and Maria destroying parts of the Caribbean this month, many islands in the region were left with historic destruction, power outages and damage. What we have in the Virgin Islands and Dominica is a humanitarian crisis. Our thoughts are with the families, first responders and volunteers who are working to save those in immediate need and those who have had their lives forever changed by this storm."
The Office of the senator set up regional collection centers throughout the district that will collect much needed items for the victims of storm. These regional collection centers are asking their communities for basic needs items, including hygiene products and kits, toiletries, nonperishable food items, bottled water, new undergarments (for men and women), new men's and women's clothing, new children's clothing, baby diapers (all sizes), baby formula, cleaning products, plastic garbage bins, shovels, tools and plastic trash bags.
Omyma David, former Acting Consul General of Antigua & Barbuda in New York and Caribbean Diaspora Disaster Coalition member, said, "The Caribbean diaspora witnessed the chilling devastation wreaked by the recent hurricanes Irma and Maria on our beloved islands. Many of us immediately sprung into organizing relief efforts. Caribbean Day of Giving Saturday, Oct. 7, from 8 a.m. to 6 p.m., provides an excellent opportunity to promote some of the efforts of the Caribbean diaspora across the United States, Canada and United Kingdom in helping to provide relief and aid to our brothers and sisters in the Caribbean."