Political maturity in the East
Keron Alleyne District Leader of 60th Assembly District | 10/5/2017, 10:52 a.m.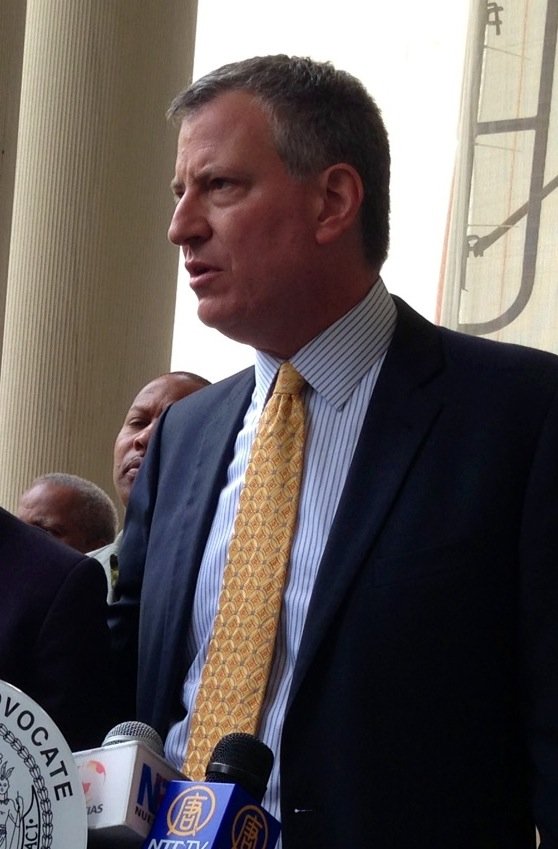 The evening was clear and the community was ripe for a political showdown with the top government official of the city. In a decked out cafeteria, this top city official Mayor Bill de Blasio has turned his attention to a community currently on the rise from their local leadership but historically neglected. East New York is that community and through an unstable housing market that displaces people and inflates profit, the mayor came prepared to defend his signature housing/rezoning plan before a crowd not unfamiliar to him. A crowd filled to the brim with political aspirants, concerned community members, media, commissioners and cops—you name it. Intentionally absent were the two voices that would be most critical, the local host Councilmember Inez Barron and her predecessor of the seat Assemblymember Charles Barron. This glaring omission was for good reason.
As the sitting state committeeman/male district leader, the political climate must be understood and analyzed as such, so please allow me to clear the air. More than 50 years ago El Hajj Malik El Shabazz or Malcolm X stated, "We must understand the politics of our community and we must know what politics is supposed to produce. We must know what part politics play in our lives. And until we become politically mature we will always be misled, led astray, or deceived or maneuvered into supporting someone politically who doesn't have the good of our community at heart." His words resonate loudly today as they did yesterday and in that room I couldn't help but hear Malcolm. I could hear Malcolm expecting political maturity from everyone in the room, including myself, by seeing this town hall for what it was—a political sleight of hand.
Mayor de Blasio came to East New York not to solve problems and not to gain a pulse for what his housing plan was doing to the community. Mayor de Blasio came in to do the bidding of the Democratic Party and perform a political sleight of hand for boosted numbers at the polls. This campaign-like move comes during the political non-promotion time or "blackout" period. Let's be real —the mayor is all too familiar with East New York and our issues as a community! Town halls and visioning sessions were held all throughout the rezoning process, and the nagging issues were presented at every meeting. The affordable for who question when it comes to housing, the need for a cultural institution and community investment. This town hall was going to be a public relations stop for the mayor's re-election campaign. With Borough President Eric Adams moderating a tight ship, the narrative was sure to be just that. From the start of the opening remarks the stage was set for this to be a passive walkthrough of political pageantry. We were warned as a district of the disillusionment that would be presented in the town hall by our two critical voices in Councilmember Inez Barron and Assemblymember Charles Barron. They were more than right!
When presenting on the deep levels of affordability of the 42nd Council District, the mayor didn't speak about Councilmember Barron's efforts over the past 15 years. Even under Mayor Bloomberg 6,000 units of real affordable housing was negotiated to the benefit of the community. Without ever overlooking the area median income of the district being $34,000, Councilmember Barron has created ample opportunities for residents that live here to remain. The mayor comes to this district speaking about various capital improvements to the area that are projected without addressing the massive displacement of people in the rezoned and surrounding area. These same people clapping in the room will not be able to afford to enjoy these community improvements because of the skyrocketing cost of living. Half of the units in the rezoning are going to be at market rate which is ultimately out of the community's hand economically, and the plan creates only more rental opportunities for community—no ownership! Several commissioners came up to defend the plans and stop the people in the room from being critical with closing statements saying, "We'll follow up on that."
East New York has been told "we'll follow up on that" since Black and Brown people inhabited the neighborhood and made it their own. When Malcolm X spoke about what politics is supposed to produce, he was speaking about the best conditions for the people. The conditions under this mayor have not been the best for East New York. We still need commitments for a fully functioning youth center, we need deeper affordable housing with protections from landlord harassment for people that have been through the worse times, we need adequate space for our Community Board district office, which has also been displaced throughout this process, but this is already known. Mayor, my community is not fooled nor will be led astray. We will hold your administration accountable until the gold and silver is equitably delivered!