Talking SCHOP! Barbados Food & Rum Festival 2017
Kysha Harris | 10/5/2017, 2:39 p.m.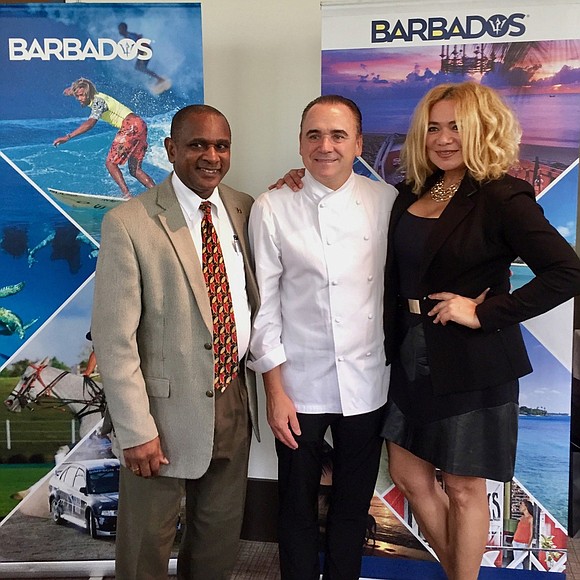 Sept. 20, I attended the news conference to announce the eighth annual Barbados Food & Rum Festival taking place Nov. 16 to Nov. 19, 2017. The morning was filled with warm Bajan hospitality from the Barbados Tourism Marketing Inc. team and food perfection from a master chef.
In 2016, the festival was rebranded from the Food & Wine and Rum Festival to the Barbados Food & Rum Festival to focus on Barbados' revered rum and culinary heritage. Considered as the "birthplace of rum," Barbados is home to the Mount Gay distillery—founded in 1703—the oldest existing brand of rum in the world. Held during the island's culinary month of November, visitors attending the Food & Rum Festival will witness the essence of Barbadian cooking and spirits via lively events taking place all over the island.
For the second year in a row, renowned chef and restaurateur Jean-Georges Vongerichten will participate in the Barbados Food & Rum Festival, hosting a multicourse dinner for 150 guests at the island's famed restaurant, The Cliff. "The abundance of fresh local produce and food, along with the friendly people and gorgeous accommodations make Barbados just the type of destination that inspires me year after year," said Vongerichten. "Food & Rum has become the premiere autumn event in the Caribbean, showcasing the high caliber and diversity of food in Barbados. You shouldn't miss out on this, so come join me for what promises to be a spectacular event."
Other celebrated chefs from London, Toronto, Barbados and other Caribbean islands will also be participating in the Food & Rum Festival.
"Barbados Food & Rum Festival has gained a reputation as a must-attend annual event amongst the culinary community and continues to evolve into a leading multifaceted experience, replete with associated fetes, sporting events and luxe excursions," said Petra Roach, director of USA–Barbados Tourism Marketing Inc. "From five-star dining to getting a cutter sandwich on the beach at Cuz's Fish Shack—Barbados' breadth of culinary options is hard to beat anywhere in the world, let alone the Caribbean."
Vongerichten prepared a tasty four-quadrant sweet and savory breakfast for our group with stellar service that cannot be beat. It served as a perfect example of what to expect at the annual Barbados Food & Rum Festival. Looking forward to it!
Special Note: Barbados was not affected by Hurricane Irma although the island continues to help the affected countries of the Caribbean. Headquartered on Barbados, the Caribbean Tourism Organization is coordinating efforts through its relief fund, www.gofundme.com/hurricane-relief-fund-cto, and encourages Caribbean lovers to donate to the Red Cross, too.
Happy eating and thanks for reading!
Kysha Harris is a food writer and editor, culinary producer, consultant and owner of SCHOP!, a personalized food service in NYC for more than 15 years. Follow her on Twitter and Instagram, @SCHOPgirl, on Facebook, /SCHOPnyc, and her blog, www.talkingSCHOP.wordpress.com. Questions? Comments? Requests? Feedback?  Invitations!  Email AmNewsFOOD at AmNewsFOOD@SCHOPnyc.com. Follow us on Instagram, Twitter and Facebook @NYAmNewsFOOD and tag us with #SoAmNewsFOOD with your food finds!