Trump's tragedies
Herb Boyd | 10/5/2017, 11:03 a.m.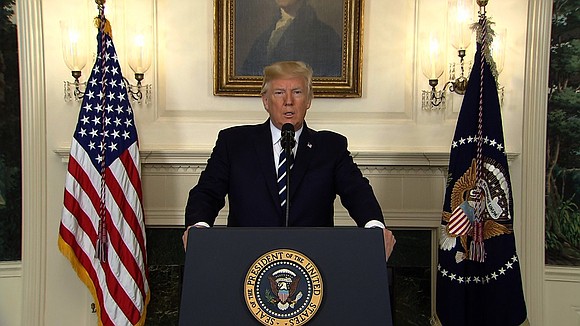 After putting his feud with the NFL and the cultural wars on hold, President Trump has finally devoted attention to the disaster in Puerto Rico in the wake of Hurricane Maria. He arrived Tuesday in San Juan, which will be the extent of his travel on the damaged island, and resumed ridiculing the debt-ridden island, saying it had thrown the U.S. budget "a little bit out of whack," when he wasn't praising himself in providing help and relief.
"I think it's now acknowledged what a great job we've done, and people are looking at that," Trump said during the news conference, unscripted. In one way he's absolutely right, people are looking at this so-called great job, including San Juan's Mayor Carmen Yulin Cruz, who was extremely outraged at the slowness of the Trump administration's response to the destruction.
Trump also found it convenient to compare the damage done by Hurricane Katrina in 2005 with Hurricane Maria, asserting that Puerto Rico should be "very proud" they had not lost as many lives "in a real catastrophe like Katrina."
The president was equally tone-deaf on the massacre in Las Vegas when he tweeted, "My warmest condolences and sympathies to the victims and families of the terrible Las Vegas shooting. God bless you!"
"Warmest condolences"? This poor mixture of terms is exemplary of a president who is bereft of human compassion, and we needn't invoke Charlottesville or DACA.
Hopping from tragedy to tragedy—Wednesday he plans to be in Las Vegas, a quicker response than to Puerto Rico—Trump is carrying his destructive baggage and most of it self-generated.
The resignation of Tom Price as HHS head and Trump's accusations against Secretary of State Rex Tillerson on tensions between the U.S. and North Korea are further evidence of a discombobulated administration, led by a man whose only predictability is his unpredictability.
Over the past several weeks he has witnessed setback after setback, including the failure to obtain his major prize of replacing/repealing Obamacare, and these defeats have only made him more dangerous and sociopathic, to agree with several psychologists currently assessing Trump's behavior without the benefit of having him on a couch.
Trump's dismissal of climate change and global warming as little more than "fake news," and the ongoing rhetorical missiles hurled at Kim Jong-Un should be concerns to all, even those voters who by now would recognize their chosen leader's reckless incompetence.
Thus far, Trump has hesitated to define the carnage in Las Vegas where hundreds were injured and 59 killed as we go to press. Maybe he's just waiting to gather the facts, as he has said in the past when he set aside his tweeter finger without any immediate reaction.