Changes in the Nets' lineup give team chance to prosper
Vincent Davis | 10/12/2017, 5:29 p.m.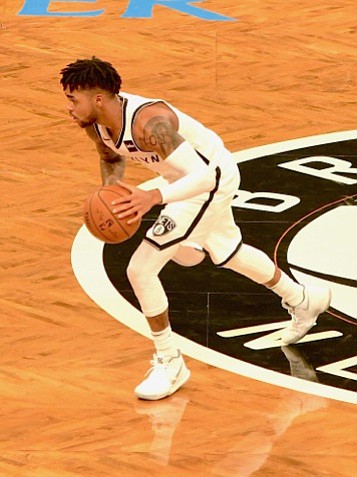 Last night's preseason game at Nassau Coliseum between the Brooklyn Nets and the Philadelphia 76ers was a reminder of the great history of both teams, and their common denominator, Julius Erving.
Known as Dr. J, Erving's leaping and above-the-rim ability and talents on the court are responsible for popularizing modern day basketball as we know it. His slam dunks from the free throw line, winning ABA and NBA Slam Dunk Contest, are classic, historic. Several past game moves against opponents continue to tally views on YouTube. Erving has taken the ABA Nets, where they started, and the Sixers to championships. Inducted into the Basketball Hall of Fame in 1993, Erving was also named to the NBA's 50th Anniversary All-Time team.
More recently, over the past few years, the Nets and Sixers commonalty has been 14th and 15th place, last in the NBA's Eastern Conference. But this season is a new beginning.
Brooklyn started the preseason with three consecutive wins. Two against their New York City rivals, the New York Knicks, away and at home, and a home win against the Miami Heat. They've showed some promise, but can they move up? Will the improvements or changes that the other 14 teams in their conference have made allow Brooklyn to eat, to prosper? It's not only about the changes that Brooklyn has made, such as trading for D'Angelo Russell and DeMarre Carroll, but also about the moves that their competitors have made. What differences will they make? Will their moves improve their teams, or have they been weakened? Can last season's top eight playoffs teams, the Boston Celtics at 1, the Cleveland Cavaliers at 2, the Toronto Raptors 3, Washington Wizards 4, Atlanta Hawks, Milwaukee Bucks, Indiana Pacers and Chicago Bulls, be displaced by Brooklyn and/or the other six teams vying for higher positions? Who's on the come-up? And among this group, who's on the decline? No matter what, someone will be first, and someone will be last, 14th and 15th place.
"I think our change of personnel can help," said Brooklyn's head coach, Kenny Atkinson, interested in a more active defense this season, attempting to force more opponent turnovers, as they did on Sunday at Barclays Center against the Knicks. "I thought our defense was solid. I thought we were active. I think we turned them over a lot in the first half. That really started the ball rolling. Great activity. A lot of deflections, steals, high-energy defensively," he noted. "D'Angelo gets a lot of deflections and steals, DeMarre—that's always been his thing defensively, and I think it fuels the whole team. Those guys can start to get that energy going."