Nigerian Independence Day celebration in NYC 
OLAYEMI ODESANYA | 10/12/2017, 3:45 p.m.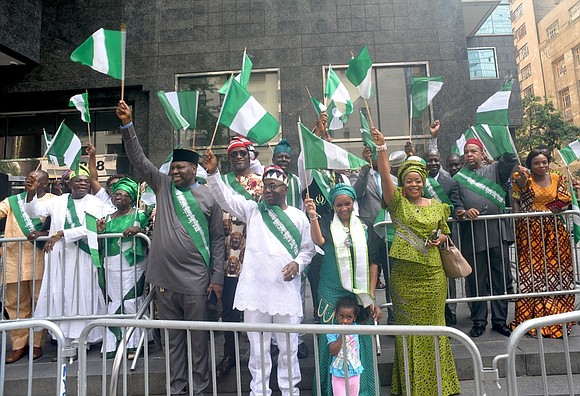 Saturday, Oct. 7, 2017, people came from all over the nation to celebrate the 57th anniversary of  Nigeria's Independence Day (Oct. 1, 1960). Community leaders, activists, entertainers and Nigerians and Nigerian-Americans came out to enjoy a feast for the eyes, ears, spirit and soul at New York City's 26th annual parade at the United Nations' Dag Hammarskjold Plaza.
Speeches came with music, both cultural and Afrobeat modern. There were drums and DJs.
Always there were the mega-floats and parade marchers down Second Avenue, from 54th Street to 44th Street at Nigeria House in Manhattan.
The festival came the day after the Queens annual family friendly cultural night, which took place at the  Jamaica Performing Arts Center.
Hosted by the Organization for the Advancement of Nigerians Inc., the parade brought out cultural pride and calls for positive progress among the vendors and the youthful crowd rocking the green, white, green of the Nigerian flag. Egusi and pounded yam were on sale next to "Naija Omo" T-shirts and jollof rice and chicken!
After-party fliers were everywhere, as were palm cards promoting the New York African Restaurant Week & Day Party, held in Industry City with more than 25 restaurants and apparel and art vendors.
Politics is always present. Across the street from Nigeria House, a group supporting the Biafra cause shouted their protests.
Always culturally uplifting, the parade has become a New York City tradition.
For more information, contact oanweb.org.