Trump will end health care cost-sharing subsidies
Kevin Liptak, Tami Luhby and Phil Mattingly, CNN | 10/13/2017, 8:30 a.m.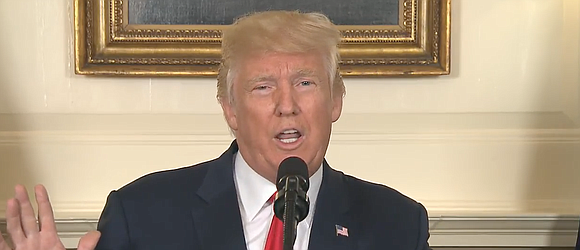 (CNN) -- President Donald Trump plans to end a key set of Obamacare subsidies that helped lower-income enrollees pay for health care, the White House said Thursday, a dramatic move that raises questions about the law's future.
The late-night announcement is part of Trump's aggressive push to dismantle aspects of his predecessor's signature health law after several failed attempts by Congress to repeal it earlier this year.
In a series of tweets Friday morning, Trump called on Democrats to reach out to him to "fix" the law, which he called a "broken mess."
"The Democrats ObamaCare is imploding. Massive subsidy payments to their pet insurance companies has stopped. Dems should call me to fix!" he tweeted.
The move also puts the spotlight back on Congress, where lawmakers in both parties have urged the administration to continue the payments to stabilize the Obamacare markets in the short term.
While senior congressional Republicans oppose the payments themselves -- they sued the Obama administration to stop them and have tried for years to repeal the underlying law altogether -- there's recognition of what ending them suddenly could do to the millions of Americans insured through the Obamacare exchanges.
Democrats have repeatedly pressed the administration for a longer term commitment that the payments would be made, but Trump has directed his advisers to keep them on a month-to-month basis, in part for negotiating leverage, according to sources with knowledge of the discussions.
Nearly 6 million enrollees, or 57%, qualify for the cost-sharing payments this year, according to the most recent data from the Department of Health and Human Services. The subsidies are expected to cost the federal government about $7 billion in 2017.
The uncertainty over the subsidies' fate was a key reason that many insurers are substantially hiking their rates for 2018 -- some by more than 20%. Several major carriers dropped out of the individual market, unwilling to wait and see what Trump and congressional Republicans would do.
White House press secretary Sarah Sanders said the decision was "based on guidance from the Justice Department."
"The bailout of insurance companies through these unlawful payments is yet another example of how the previous administration abused taxpayer dollars and skirted the law to prop up a broken system," Sanders said in a statement.
Democratic leaders called the decision another instance of Trump sabotaging Obamacare.
"It is a spiteful act of vast, pointless sabotage leveled at working families and the middle class in every corner of America," said Senate Minority Leader Chuck Schumer and House Minority Leader Nancy Pelosi in a joint statement. "Make no mistake about it, Trump will try to blame the Affordable Care Act, but this will fall on his back and he will pay the price for it."
But GOP Rep. Jim Jordan, a member of the House Freedom Caucus, defended the President's decision to CNN's Chris Cuomo on CNN's "New Day" Friday morning.
"These (cost sharing reduction) payments are in fact illegal. The President said he is no longer going to engage in making these payments, so let's move forward and do what we should have done a long time ago," he said, later adding, "Obamacare is a mess and we need to replace the whole thing, repeal the whole thing."