32BJ, Working Families Alliance blast 'sanctuary' ad by Republican NJ gubernatorial candidate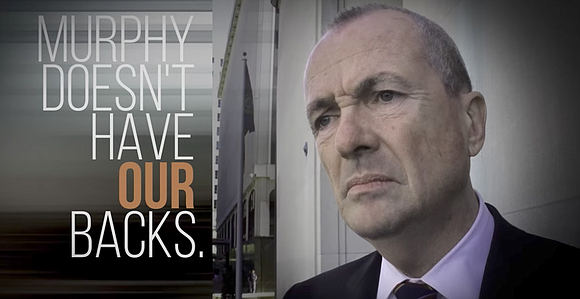 Being down double digits in the polls and being beaten in fundraising has made New Jersey gubernatorial candidate Kim Guadagno channel her inner Donald Trump.
In a recent television ad released by Guadagno, the narrator uses the words of her Democratic opponent, Phil Murphy, against him to rail against sanctuary cities and states.
"Illegal alien and child rapist Jose Carranza shot four New Jersey students in the head," said the narrator. "Three died, shattering their families. When asked about deporting criminal illegals, Phil Murphy said 'My bias is going to be having their back.'" Murphy's gone on record with his desire to make New Jersey a sanctuary state to protect immigrants.
"Make no mistake: Murphy would have the backs of deranged murderers like Carranza. Providing sanctuary in New Jersey," continued the narrator. "Murphy doesn't have our backs. He has theirs. Phil Murphy: Too dangerous for New Jersey."
In a statement, Murphy said "Kim Guadagno needs to look in the mirror and ask herself why her campaign has lost any semblance of integrity. This ad, which represents politics at its worst, is vile and deceitful. She took an answer I gave about standing up for immigrant communities and knowingly distorted it."
The racial dog whistles in the ad elicited a response from members and officials from 32BJ SEIU.
"I work hard cleaning offices and have worked full time for several years," said Maximo Rodriquez, a Trenton-based 32BJ SEIU member, in a statement. "What Kim Guadagno said about immigrants in her 'sanctuary' ad is wrong. We're not criminals."
"This ad is disgraceful," added Kevin Brown, vice president and New Jersey state director of 32BJ SEIU. "It accuses undocumented immigrants of being criminals, murderers and drug-dealers. It's from the Christie/Trump playbook: pitting 'us' against 'them.' As Phil Murphy has said, that's truly un-American."
Former Vice President Joe Biden referred to Guadagno's ad as "the return of Willie Horton," referencing the infamous 1988 campaign ad from George H.W. Bush against his Democratic opponent Michael Dukakis.
The New Jersey Working Families Alliance wrote an open letter to Guadagno last week asking that she pull the ad (and asked anyone interested to sign the open letter, which is available online).
"Home to Ellis Island, New Jersey is among the most diverse states in the nation, where more than one in five New Jersey voters are immigrants or children of immigrants," read the letter. "Your ad's attempt to dehumanize immigrants and cast them as violent criminals—because of the bad actions of one man—is antithetical to New Jersey values, and begs the question of whether you intend on representing all New Jerseyans, regardless of ethnicity, should you get elected."
The letter continued, "With all that is going on in the national political landscape, it is disappointing to see that you would double down on the hateful and divisive rhetoric championed by Donald Trump. Your ad is fanning the flames of racism for your own political benefit."
Members of the New Jersey Working Families Alliance also protested outside of her office, pushing for the ad's removal.