Activist Tamika Mallory takes on American Airlines after being kicked off flight
CYRIL JOSH BARKER | 10/19/2017, 4:41 p.m.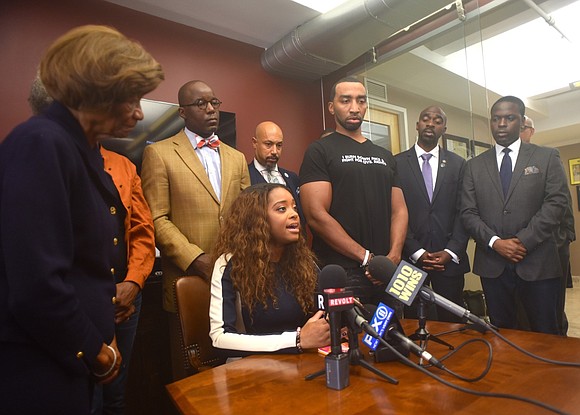 In a statement released Thursday, activist Tamika Mallory said she spoke with a second representative in the customer care department of American Airlines this week, who asked her to recount her experience when she was kicked off of a flight on Sunday over a seating dispute.
The airline said that the matter was under investigation and acknowledged that the company mishandled the seating situation, but equivocated as to the pilot's conduct. However, she said she still has several concerns.
"First, the representative who reached out to me was not part of the airline's senior management," Mallory said in statement. "Second, while the representative apologized for the handling of the situation, she was not completely informed about my experience in its totality -- she was unaware of my colleague Mysonne Linen's experience on the plane, or of the white male who interjected on my behalf but was not removed."
She added that she was informed by representative that all the information she relayed to him would be forwarded to his superiors and it was no.
"I was able to glean from this conversation that the representative either did not want to -- or did not know – American Airlines' training policies, and protocol as to the removal of customers from the plane when there is no safety issue. While everyone has acknowledged that the ticket agent handled the matter inappropriately, what is American Airlines' policy as to a pilot's interaction with customers," Mallory said.
Mallory believes she was the victim of white male aggression during an incident that made headlines on an American Airlines flight.
She was kicked off an American Airlines flight from Miami to New York over a dispute involving a seat on the plane. The white male pilot who spoke to her ejected her from the plane and Mallory believes her race played a role in her treatment.
"This one part of white male aggression that we as women of color have been dealing with since the Women's March," she said in an interview. "We began to receive threats and [be] approached at our march with men carrying guns. Trump got elected and people have literally taken their sheets off."
During a news conference this week Mallory was joined by her attorney and supporters, including NAACP New York State Conference President Hazel Dukes, activists Kirsten Foy and Erica Ford, Mysonne, Council Member Jumaane Williams, State Sen. Brian Benjamin and Assemblyman Michael Blake.
"Why did this happen to be?" she asked during the news conference. "As a spiritual person I understand that this happened to me because other people need to have their voices heard. As an organizer when something like this happens, at least people will hear my voice."
She went on to say that she wanted to make sure there were policies instituted within American Airlines that ensure that what happened to her doesn't happen to someone else.
Known for her work in activism and as co-chair of the Women's March on Washington, Mallory said in a 30-minute Facebook Live video that she requested a seat change from a middle seat to an aisle seat at an airport kiosk. However, when she arrived to the gate she was given her original middle seat and explained to the gate agent that she changed her seat.