Farrakhan speaks in Newark: Separation or death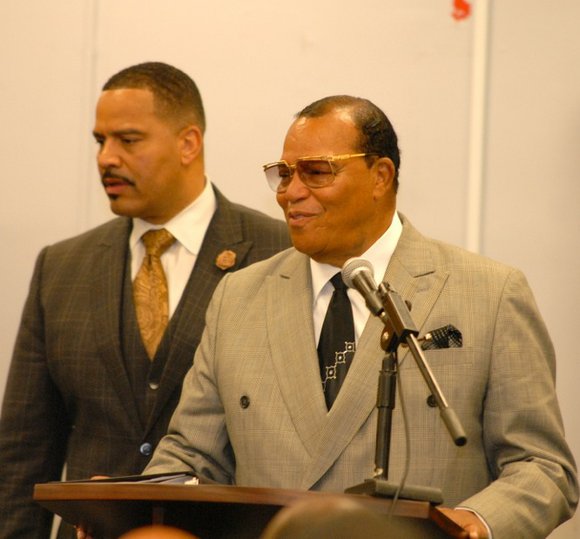 The Nation of Islam commemorated the 22nd anniversary of their historic Million Man March, which occurred in Washington, D.C., Oct. 16, 1995, with a forum at Newark, N.J.'s Symphony Hall. Their leader, Minister Louis Farrakhan, echoed much of the powerful speech of his spiritual father and former NOI head, the Honorable Elijah Muhammad, delivered at Harlem's 369th Armory Aug. 27, 1961, titled "Separation or Death."
Farrakhan opened by acknowledging and thanking Newark Mayor Ras Baraka and his staff for their efforts in hosting and helping put the event together.
He then noted Noble Drew Ali, who established the Canaanite Temple in Newark in 1913.
"Newark was his headquarters," said Farrakhan. "He was the prime predecessor of Master Fard Muhammad [Nation of Islam founder] bringing Islam to the Black man of America. Elijah ordered us to always show honor and respect to Noble Drew Ali and Marcus Mosiah Garvey, and that stands 'til this very hour."
The Muslim leader spoke about the origin of Caucasians and their purpose in this world, before adding, "We're tired now and we want relief. So today you are not who you were created to be, you are who the white man made you to be, and that is why he calls you boy."
He explained why he thinks original people are experiencing the deplorable conditions they are currently in.
"For just 6,000 years, a moment in infinity of time, to suffer, to learn that which will perfect us, that will enable us to produce a perfected man, to produce a perfected world!" he stated. "We've been mastered by a system of tricks and lies. Now we chose the subject 'Separation or Death.' Recently the F.B.I., in a new version of COINTELPRO, talked about Black identity extremists, and they've got the Moorish Science Temple and Noble Drew Ali. They didn't mention us, but we know they're coming. I thought since they said the separation of Black people from whites was one of the things that upset them, so I wanna upset them a little more today, and in the process of upsetting them, unfortunately, I might have to upset some of us."
The 84-years-young leader pushed the NOI's separatist protocol.
"We're not just desirous of separating from you [the U.S. government]," he said. "It is the only solution to the toxic relationship between Blacks and whites. Everything in creation submits to the will of God, except the rebellious devil, and he made you and me into this grotesque manifestation of the original man."
Throughout his presentation he referenced some of the points laid out in Elijah's book, "Message to the Blackman," which also advocates Black pride and self-sufficiency.
"We want to talk, walk and be like them, only to be rejected by them," he said. "Aren't you tired? We can't get justice, full freedom, equality of opportunity under this American construct. What will it take to see they don't want you?"
The Muslim minister sarcastically thanked those who thought assimilating with the oppressor is the answer.