Rough storm season will slow tourist arrivals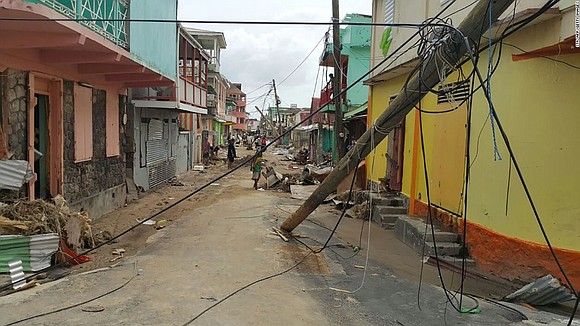 With the infrastructure of so many countries devastated by the record-setting 2017 hurricane season, tourist arrivals to Caribbean destinations are expected to plunge significantly this year.
Experts say that arrivals had been surpassing last year's tally by nearly 6 percent for most of this year until very powerful hurricanes with names such as Harvey, Irma and Maria intervened with powerful winds and rains that have extensively damaged the tourism infrastructure, including mobile cellular telephone towers, airports, hospitals and hotels.
Officials at the Barbados-based Caribbean Tourism Organization briefed the region in the past week on the state of play and made it clear that the numbers of tourists will head south because so many countries are not back to pre-storm readiness levels as of yet.
Among the hardest hit were Dominica, Barbuda, Dutch St. Maarten, French St. Martin, Cuba, the Turks and Caicos Islands, the British Virgin Islands, the U.S. Virgin Islands, Puerto Rico, some of the smaller Dutch Antellian Islands, Guadeloupe and Martinique, among others. Others, such as Antigua, were grazed, and the region has organized a rearguard effort to help them restore normalcy.
Joy Jibrilu, the CTO's chairperson, said 16.6 million tourists had already visited the organization's more than 30 destinations up to the end of June, approximately 800,000 more than 2016.
The warnings come as some Caribbean leaders attending a Commonwealth finance ministers meeting in Washington, D.C., called for rules governing loans and grant aid to be amended so countries affected by natural disasters can quickly tap into such resources.
Allen Chastanet said the 2017 season, which pulverized so many nations, is a stark reminder about the vulnerability of the Caribbean region to disasters, particularly hurricanes. Special rules to help them adapt and recover would not hurt anyone.
"While we've been theorizing about the impact of climate change, this summer and other summers previously, we have seen in reality what it means. It requires us to accept the fact that some of our economies are going to be wiped out. We're having to deal with the reality that our future is not within our control," he told the conference as delegates paid keen attention. "We came here and we're continuing to plead with the donor agencies that the SIDS [Small Island Developing States] be carved out and that we compartmentalize resilience building and we allow there to be a special fund that we can access that's at concessionary rates. Time has run out against us and it requires us to bring the human side back to what has taken place."
Meanwhile, the CTO's secretary-general, Hugh Riley, said the time has come for the region to pay attention to the resilience of key infrastructural installations, such as mobile towers, going forward. They must be built to withstand the more powerful storms experts are predicting will batter the region in the coming years.
"It was recommended that the telecommunications companies look at their structural integrity and the resilience of their equipment. There was a discussion about the fact that cellphone towers seem to go fairly quickly in any vicious storm. These towers have traditionally been built to withstand category 3 hurricanes and we understand that category 5 technology is available. So the recommendation is to make sure that those are everywhere," Riley stated.