Talking SCHOP! To 10 more years!
Kysha Harris, Food Editor, @SCHOPgirl | 10/19/2017, 5:35 p.m.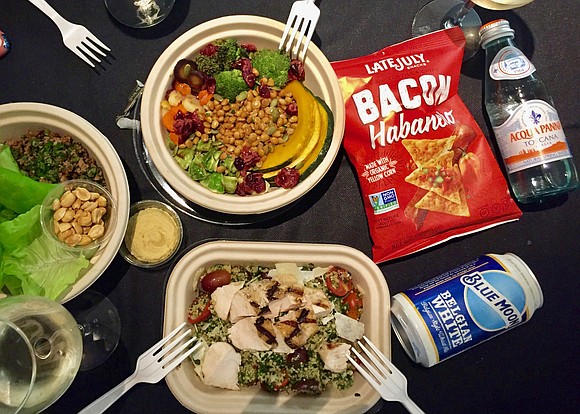 Ten years of doing anything is a milestone for any person, business or organization. The Food Network and Cooking Channel New York City Wine & Food Festival is no exception, and they celebrated with tons of parties, dinners and events this past weekend. The city and its residents showed up to join in the fun!
The festival always begins for me in the hospitality suite. I go to pick up my tickets, but the food and beverages tell me to stay awhile, take a load off and chill. Here you taste some of the sponsors' foods, but you also get a private tasting of some new items on the market.
This year a relatively new meal delivery service was providing food in the hospitality suite. It is called Epicured (@getepicured). This compound word brings two philosophies together for a common goal: "epi" for quality gourmet food from renowned executive chefs and "cured" for ingredients and menus reviewed by registered dieticians. Together they produce healthy, delicious, gluten-free, digestion-friendly meals. As co-founder Rich Bennett said, "We want to help people to use food as medicine." I felt great after those pork lettuce wraps and harvest salads filled with perfectly cooked chicken and vegetables. I want
to know more.
My first event was the Iron Chef Showdown at Pier 92 Saturday. As there is a battle for every Iron Chef, the night's was Battle Autumn Bounty. Guests were invited to taste all, and then vote for their favorite. Chefs were doing their best to get as many votes as possible, but the trophy went to Le Coq Rico for their leeks vinaigrette dish.
My favorite dishes came from Delicatessen and The Doughnut Project. Delicatessen for their savory short rib polenta with autumn vegetables, French chestnuts and mascarpone. The Doughnut Project blew me away with The Bow & Arrow doughnut with butternut squash filling, buttered carrot glaze, quinoa/flaxseed/pepitas topping and concord grape drizzle. I went back for seconds on this treat to double-check my excitement. Brilliant!
Sunday I attended the evergreen Grand Tasting presented by ShopRite at Pier 94. As per usual, thousands of guests sampled and sipped their hearts out. The demo stages were shaking with tons of Food Network/Cooking Channel stars and the floor was teaming with new chefs and participants.
My Grand Tasting food highlights came from 809 Bar & Restaurant (@809restaurant), Chef April Robinson of Butter Tapas (@ButterTapas) and Mamo (@Mamo_NYC). The restaurant 809 served a croquette with pork and pickled onions. Butter Tapas and Mamo both served ravioli; respectively, ricotta ravioli with blue crab in a brown butter sauce and raviolini (small ravioli) in a creamy truffle sauce with shaved black truffle on top. Heaven!
Harlem was in the house again this year at the NYCWFF, from the private dinners to the Grand Tasting. Though I missed chef J.J. Johnson at the Coca-Cola pop-up restaurant, I was so happy to see Harlem Shake owner Jelena Pasic serving up some jerk fried chicken sammies.
Happy 10th year NYCWFF for your service to beneficiaries No Kid Hungry Share Our Strength and Food Bank for New York City. Here's to 10 more!
Shoutout to all media and journalists who have covered this festival from year one. That's a lot of calories consumed for the sake of our profession and for the good works of the festival over the years. I salute you and wish you a happy NYCWFF-iversary, too!
Happy eating and thanks for reading!
Kysha Harris is a food writer and editor, culinary producer, consultant and owner of SCHOP!, a personalized food service in NYC for more than 15 years. Follow her on Twitter and Instagram, @SCHOPgirl, on Facebook, /SCHOPnyc, and her blog, www.talkingSCHOP.wordpress.com. Questions? Comments? Requests? Feedback? Invitations! Email AmNewsFOOD at AmNewsFOOD@SCHOPnyc.com. Follow us on Instagram, Twitter and Facebook @NYAmNewsFOOD and tag us with #SoAmNewsFOOD with your food finds!