Lenox Terrace gets updated construction plan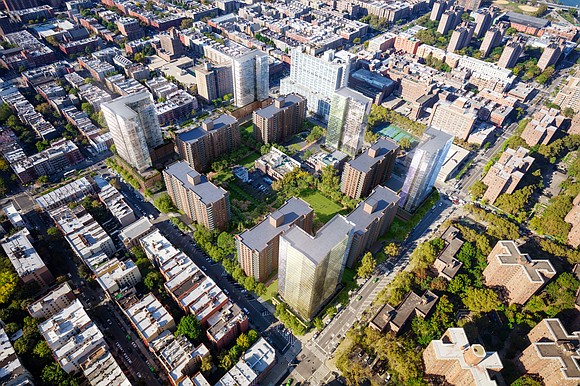 Since its initial building in 1959, Lenox Terrace has been a jewel to Harlem's residential life. Today it's on the verge of a major renovation in an effort to keep up with current demands.
Current rent for a new apartment in Lenox Terrace runs between more than $1,700 for a studio bedroom apartment to more than $3,000 for a two-bedroom apartment.
Wednesday, representatives from the group that wants to update and expand Lenox Terrace spoke to current residents at a meeting at the Schomburg Center for Research in Black Culture about a plan that's been 10 years in the making.
The plan includes creating 6 acres of new landscape and open space, improvements to existing apartments, renovated lobbies and new amenities. Five new buildings approximately the height of Harlem Hospital are also in the plan, along with new street-level retail throughout.
Lenox Terrace was created by Robert Olnick in 1959 and is still owned by the family. Developers say they want to build on the legacy of Harlem's first luxury apartments.
"When Lenox Terrace was constructed in the late 50s, it was truly groundbreaking," said Ethan Goodman, an urban planner for Fox Rothschild. "As with any development that becomes almost 60 years old, it begins to show its age. After many years of careful thought, the Olnick Organization determined that Lenox Terrace warranted a more substantial reinvestment."
The five new buildings on the property will contain 1,600 units, with 400 designated as affordable housing. New amenities will be open to all current and new residents, including a roof deck, community rooms, gyms, playrooms and a game room.
Also, there will be 160,000 sq. ft. of new retail space. Existing retailers will have the opportunity to relocate new spaces. New parking will be shifted to underground attended garages for the 6 acres of open space.
Residents will also receive, at their convenience, upgrades to their kitchens and bathrooms at no cost. Rent for current residents will not increase to pay for the renovations.
The project will create 2,700 on-site construction jobs and more than 300 permanent jobs. An M/W/LBE contracting plan is currently in the works.
Construction for the project is predicted to start in 2019, pending approval from the Community Board, City Planning Commission and City Council. The entire project could take eight years to complete.
In recent years as new residential buildings and renovations occur uptown, concerns linger that rents could go up, leading to further pains of gentrification. Goodman said rents for current residents will not increase.
"We believe the first step is to go and discuss the entire plan with the residents," he said. "The residents' rent is not going to be raised. The idea is to improve the apartments in the building and the apartments. Not to increase rents."
Longtime Lenox Terrace resident and NAACP State Conference President Hazel Dukes told the AmNews that from what she's heard, some resident are weary of the plan. She said she wants to see the presentation first.
"I'm going to listen to the plan before I have any concerns," she said. "I know the place is aging and I know that are a lot repairs that need to be done. I want to hear what is in this plan and make this place first class and livable."