Amsterdam News endorsements Nov. 7, 2017, General Election
EDITORAL | 10/26/2017, 3:29 p.m.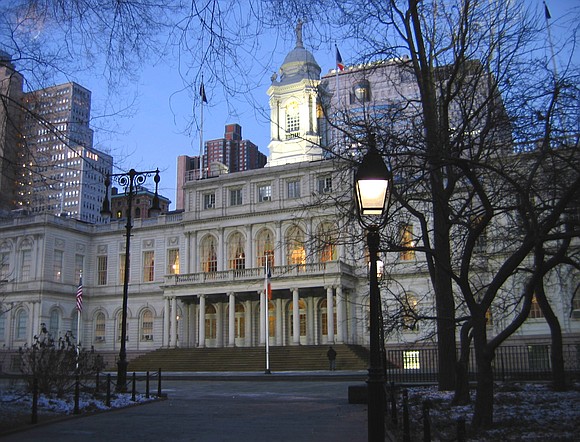 Mayor
Bill de Blasio
The job of New York City Mayor is not for the faint of heart or for anyone who is looking for a free ride. It is a job that takes persistence, determination, ingenuity, guts, smarts, a thick skin, great management skills and, above all else, an enormous passion for New York City and all who inhabit the five boroughs.
New York is not an easy place; many good men and women have come to New York and have failed. Others have had different modicums of success. And still others, although on the surface might seem to have had their fair share of trials and setbacks, have achieved some true substantive and long-lasting victories. Bill de Blasio has been one of those leaders. Although many have had some misgivings about his leadership, he has had some real wins. But he could have had a much easier time if he had just played better in the sandbox. Pre-K for all is one of those wins. And he is well on the way for 3-K as well. We at the Amsterdam News just hope that the rollout is planned in such a way that makes it viable, sustainable and safe for all of our children.
Although we still have many concerns about several of the mayor's rezoning plans, homeless policies and low-income housing plans, we believe that even though we may not agree with him 100 percent of the time, he is our best shot at getting the most done for the city at this moment. We believe that he deserves another term to continue working make this city more equitable and inclusive for all. His successes in implementing and continuing the legacy of David Dinkins pertaining to community policing has been a noticeable accomplishment that has changed the lives of many Black, Latino and immigrant communities. We also cannot forget the mayor's accomplishments providing a minimum wage for city workers, paid sick leave for low-wage workers and rent freezes for 2 million people to keep them in their apartments and in the city. The mayor is currently facing a Republican challenger who not only voted for Trump but also continues to support his exclusionary and (to be blunt) racist ideologies. It is imperative that the beliefs and policies of the Trump administration stay far away from New York City residents.
So for the General Election Nov. 7, we endorse current Mayor Bill de Blasio for a second term.
Public Advocate
Leticia James
When it comes to talking about the position of the public advocate, we at the Amsterdam News have begun to feel like a broken record. The job of public advocate is probably one of the most important posts in the city, yet one of the least understood and funded. The office of the public advocate has a budget of less than $2 million a year, but it is charged with being the ombudsman for New York City, its services and its agencies. Leticia James was elected four years ago to the post and has done a phenomenal job with the few resources she has. James is a scrappy Brooklyn fighter. She has been a voice for the underdog and has fought the good fight. She consistently uses her legal background to advance the best agenda for New Yorkers, passing more legislation than all past public advocates combined. She was instrumental in ensuring universal free lunch for all in New York City Public Schools and has led the charge to make NYCHA more environmentally friendly. One thing for sure is that James does not take "no" for an answer. This job was made for her. Public advocate is her calling. And that is why, once again we endorse Tish James for public advocate.
Manhattan Borough President
Gale Brewer
Gale Brewer is everywhere. From the Battery to Ft. Tryon park, there is not an inch of Manhattan that this public servant does not know. That is why she is the Manhattan Borough president. Coming from the ranks of the City Council and becoming BP four years ago, Brewer has worked tirelessly for the borough. On any given day, she crisscrosses Manhattan to make sure she sees, hears and helps all those she serves. She does not rubber stamp what happens at City Hall, but goes out to hear for herself what the needs of the communities are and makes her decisions based on firsthand information, not the pressure of interest groups and big lobbying firms. She cares about education, fairness, communities and policing. She cares about safety that is not at the expense of civility, and above all else she has a belief that it all can be better and she is going to work darn hard to make it so. For that and so many more reasons, we endorse her for another four years as Manhattan Borough president.
Assembly District 72
Alfred Taylor
Alfred Taylor joined the military because he didn't want his mother to have to pay for his funeral. Like so many young men when he was growing up, he was afraid of what lay ahead. And what he saw did not look good. So joining the armed forces was his way of trying to make sure that if anything happened to him on the front, or on the street, his mother would not have to have the burden of his burial. But fortunately for all of us, that was not an issue. He came back from serving and went on to college. And as a junior at Lehman College he began to work for Assemblyman Herman "Denny" Farrell. He has been involved in community service since he was a young man. The 72nd Assembly District, now vacated by Assemblyman Farrell, has been his training ground for decades. He understands what his constituents need and is eager to continue to provide it. He wants to ensure that fewer mothers have the burden of paying for their sons' funerals. That is why we endorse him for the assembly in the 72nd District.
City Council District 2
Carlina Rivera
New York City is a diverse place, and District 2 is one of those diverse neighborhoods that tell so much of the New York immigrant story. The district encompasses the East Village, the Lower East Side, Gramercy Park, Kips Bay and Murray Hill. The areas once blighted with drugs are now seeing gentrification beyond one's wildest dreams, yet at the expense of lifelong residents. There are few areas in New York where you can find a men's shelter, a drug rehab, a $500-plus a night hotel and a $17 million penthouse, all within 250 feet of one another. It takes a person who has seen and lived through the changes to really understand what this community needs. Carlina Rivera is that person. She grew up in the same building she lives in now. She walks the same streets she did as a child and knows the community inside and out. She has fought for workers' rights and tenants' rights. She has served on her community board and knows firsthand about the trials and tribulations small businesses go through. She knows how to navigate the city budget and also knows the priorities of the community from Day 1. That is why we are endorsing Carlina Rivera for City Council District 2.
City Council District 6
Helen K. Rosenthal
The Upper West Side of New York has been the home to some of the greatest liberal minds of our century. So many great Democrats have come out of these neighborhoods and have made a great difference in our communities. Helen Rosenthal is the incumbent and she has worked hard for four years in the City Council, and although some do not agree with all that she has done, many are extremely happy with the changes she has brought to education within the community. She has fought for diversity and won. We believe Rosenthal's work is not yet done, and she deserves another four years in office. Therefore, we endorse Helen Rosenthal for City Council.
City Council District 9
No endorsement
City Council District 10
Ydanis Rodriguez
Ydanis Rodriguez has been a fighter since Day 1. Born in the Dominican Republic, he moved to New York at age 18, and he saw the city and this country as a land of opportunity. But to get that opportunity was a battle in and of itself.
While attending City College, Rodriguez fought to make ends meets, working endless hours, while at the same time putting his all into making the community stronger and fighting for every person and for their right to an education.
In the City Council since 2009, he has been an advocate and champion for education, housing and language interpretation services in hospitals, and he has kept the needs of his constituents at the forefront of his mission. Most recently he has been fighting the inhumane actions of the Trump administration and has been advocating for the undocumented who are trying to make a way for themselves and their families. He is working to make New York a better, kinder place for everyone and he is succeeding. That is why, once again, we endorse Ydanis Rodriguez for City Council.
City Council District 13
Marjorie Velazquez
In the 13th Council District, we find some of the tonier areas of the Bronx, as well as solid working-class areas that are the backbone of this city. A lack of good transit options in the eastern part of the Bronx and long commutes and poor service plague the area. Transportation is one of the major issues facing the district. If elected, Marjorie Velazquez pledges to fight for better options and for funding of these options, including ferry service and the construction of the new Metro North station. But these items are not her only priority. A daughter of the Bronx, Velazquez knows firsthand what the New York City Public Schools can do and what needs to be done to make them better. She also knows what it means to persevere. In 2012, she faced life-changing injuries in a workplace accident, and then a car crash that left her disabled for a short time. She navigated and struggled through a system of insurance and health care that was broken, but she still came out with the will to change the system and give back. For her will, perseverance, fortitude, intellect and dedication to her community, we endorse Marjorie Velazquez for City Council. She is running on the Working Families Party line.
City Council District 14
Randy D. Abreu
So many New York stories are immigrant stories. Many City Council members or those running for a seat are immigrants themselves or the children of immigrants. Randy Abreu, first-generation American, was born and raised in the Bronx to Dominican parents, attended public schools and went to college with the help of New York State's Higher Education Opportunity Program. He continued on to law school, and then went to Washington, D.C., where he was appointed by former President Barack Obama to serve in the U.S. Department of Energy. And now he has decided to come home. He has come home because he deeply cares about his community. He understands the opportunities that are out there and wants them available for all. He wants to make sure that the city does a better job of outreach and inclusion for women- and minority-owned businesses; that there is more funding for schools and that technology is more of a priority in them; and that the city creates a requirement for local hiring on city-funded projects. He wants to use his experience in D.C. to bring green energy to the Bronx and reduce harmful emissions. For all these initiatives and many more, we endorse Randy Abreu for City Council. He is running on the Working Families Party line.
City Council District 28
Adrienne Adams
As most parents know, when you drop a child off at school each day that is not the end of your involvement in the child's education. Sometimes it takes a lot more to ensure that your child gets a quality education and you need to be involved on so many different levels. Such is the case with Adrienne Adams. Adams herself was a product of the New York City Public Schools. But when it came time for her children to be a part of the NYC system she took it upon herself to become a big part of it too, and as she says, it was her "on-ramp" to public service. It was through the schools that she found her niche for advocacy. She has served as the chairwoman of Community Board 12 in Queens. She was a corporate trainer for Fortune 500 companies and has been a champion for her community. She is ready to be elected so that she can do more good in her community, and she knows what it takes to make change happen, both internally and externally through her training. It is for her commitment, tenacity and knowledge that we endorse her for City Council.
City Council District 35
Laurie Cumbo
Laurie Cumbo did not take a typical path into politics. She was thrust into it by love of community, love of art and a need to make it all better. Her district comprises parts of Fort Greene, Clinton Hill, Prospect Heights, Crown Heights and parts of Bedford-Stuyvesant. As she created an arts center in her community, she found her way into politics because she saw the needs of her community not being served. So she ran and won. Now, four years later, she is up for re-election. Cumbo is the co-chairperson of the Women's Caucus and is a member of the Black, Latino and Asian Caucus. She is also a member of several committees, including Cultural Affairs, Libraries and International Intergroup Relations; Finance; Higher Education; Public Housing; and Youth Services. She has fought vigilantly on issues from low-income housing to public safety to capital improvements in our schools and had fiercely advocated for domestic violence prevention programs. For all these reasons and more, we endorse Laurie Cumbo for re-election.
City Council District 40
Brian-Christopher Cunningham
Brian-Christopher Cunningham was angry. He was frustrated and feeling underserved. The district he lived in received the third lowest in discretionary funding, and he said enough is enough. A first-generation American, raised by a single mother in Flatbush, Brooklyn, Cunningham decided early he was going to make a difference. He has worked for state senators, council members and community organizations and has served on his community board. He has been endorsed by numerous unions and PACs, as well as the Working Families Party. He wants affordable housing, universal health care, climate justice and the list goes on. But although the list is long, it is one of commitment and change. He is committed to making a change in his district and his district needs it. Brian-Christopher Cunningham is running on the Reform Party line and we endorse him for City Council District 40.
City Council District 42
Inez D. Barron
Every civic body needs a voice that stands outs and is not afraid to be heard. In the New York City Council, we need that lone wolf who will stand by his or her convictions, no matter how unpopular, because that person will vote with conscience. That person is Inez Barron. Serving in the City Council since 2013, Barron has been that voice. She has stood up when others sat silent. She has a long history as an educator and community activist, as well as a State Assembly member, and she wants to continue to bring her voice and her knowledge to the City Council. We endorse her enthusiastically for re-election to the City Council.
City Council District 45
Jumaane Williams
Every community needs a leader filled with energy, ideas and a desire to listen and learn. The City Council is filled with many well-intentioned elected officials, but some tend to demure when the issues are controversial. Williams is not that elected official. He does not shy away from battles and is determined to deliver what is best for his district, poor New Yorkers and people of color throughout the city. He continues to grow into the job and negotiate his activism with legislation. We know Williams is the best choice for his district and endorse him for re-election to City Council.
Proposal #1
Vote NO
On Election Day, voters across the state of New York will be asked whether to approve a constitutional convention, that is, a chance for delegates from across New York to rewrite the state's constitution and present the changes to voters. Rewriting the state constitution has been a contentious issue, and we at the Amsterdam News have decided to vote "No."  The endorsement board as well as dozens of labor unions and thought leaders across the state fear that changing the constitution in this volatile political climate could roll back seen and unseen protections for New Yorkers, and especially some of the most vulnerable populations in our state. Indeed, many progressive groups support the constitutional convention, but so do Steve Bannon and several other right wing groups. For this reason and many others, we do not feel the time is right to "open up" our constitution for potentially drastic changes. Therefore, we vote "No" for the constitutional convention. We believe there are better and safer ways to make the changes that are necessary.
Proposal #2
Vote YES
Proposal #3
Vote NO