Beautiful soprano Angel Blue makes debut at Metropolitan Opera
NADINE MATTHEWS | 10/26/2017, 4:04 p.m.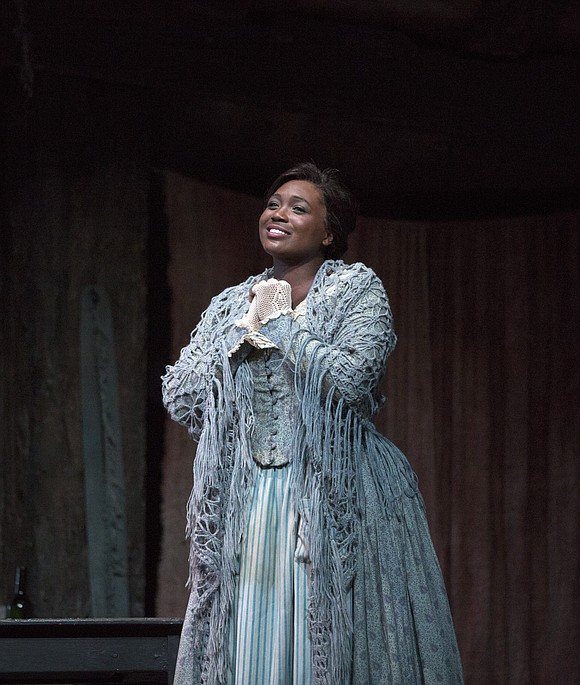 In 1961 opera soprano Leontyne Price made her debut at the Metropolitan Opera and elicited an ovation that was more than 35 minutes long. It is one of the longest ovations in the history of the Metropolitan Opera. It comes as no surprise then that colorfully named soprano Angel Blue, currently finishing up her own debut run as love-struck seamstress Mimi in Puccini's "La Bohème" at the Met, idolized the opera great.
Beginning with Elizabeth Taylor Greenfield in the 19th century, Black women have a long and storied history in the annals of opera. Blue commented, "When I was about 10 I got a recording of Leontyne Price's music of her greatest hits, basically. I think the album was called 'Voice of the Century.' On that she sings arias from 'La Forza Del Destino.' I would stand on my bed and sing 'Pace Pace.'
"La Bohème," composed by Puccini in Italy in 1896, is a romance centering on the tragic love story between Mimi and Rodolfo, a poet full of passion and fire but empty of pocket. Both living in the same building, they quickly fall in love one night when she comes to ask him to relight her candle, which has gone out. As the saying goes, the course of true love never runs smoothly, and their relationship is tenuous though their love for each other is deep.
Blue, who promises to be one of the biggest future stars of opera, plays Mimi with complexity of emotion and a voice that is powerful yet tugs at the heart. Blue believes Mimi continues to resonate with audiences, explaining, "She is just a real person. She could be me and you. That's what resonates with me about her character, and I try to portray her that way. She is literally the girl next door and tired of being alone and wants a boyfriend and this guy is cute. Hopefully people understand you don't have to be a world traveler and speak all these languages to get opera. You don't. Just come as you are and come with whatever it is that's going on in your life."
On getting the chance to play Mimi, Blue commented, "I had nerves but it was really good nerves. Everything for me is really a dream come true in a prophetic kind of way because my father always wanted me to sing at the Metropolitan Opera House. He talked about the Met all the time, so for me the dominant feeling was joy. I was just so happy and thankful for the opportunity to be here."
It was in fact her father who fostered a love of classical music, gospel music and opera for Blue during her childhood in California. Blue related, "My dad was an opera singer. He was just really into classical music and studied opera at the Cleveland Conservatory and he was also a gospel singer. What drew me to opera was just my dad's enjoyment and love for it."
None other than opera great Plácido Domingo hand-picked Blue to be a part of his artists' program, which would launch her career. Ironically, at the time of her audition (which she failed the first time), he told her she reminded him of his friend. Intrigued, Blue inquired, "Who is your friend?" He replied that he was referring to none other than Price, Blue's childhood idol. She recalled, "He didn't say I sounded like her; he just said that I reminded him of her in my mannerisms and I thought that was a huge compliment." At the time that she auditioned, she was at UCLA studying for her master's degree in Opera Performance and had just lost her beloved father and was very vulnerable.