Beautiful soprano Angel Blue makes debut at Metropolitan Opera
NADINE MATTHEWS | 10/26/2017, 4:04 p.m.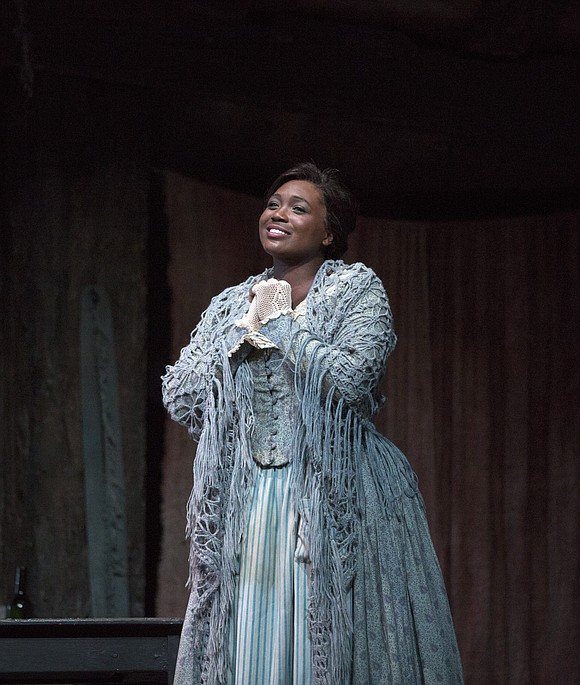 "At the time, my dad had just passed away," she said. "I was feeling overwhelmed with everything that was going on. My voice teacher asked if I wanted to audition for the Young Artist program." Though unfamiliar with the program and perhaps looking for a diversion, Blue decided to try. Sadly, she was the only one who did not make it. "Everybody else was accepted in the program," she said, "but I wasn't. I was accepted as an intern but everyone else had a place in the program. I sang for Maestro Domingo two months later, and that's when I was invited into the program." From this launchpad, Blue got the finest training possible, working with some of the best singing coaches from all over the world.
Blue was also on the beauty pageant circuit before her opera career. "I love pageantry," she gushed. "A big strength I got from pageantry was confidence. Not comparing myself to other girls. I have a curvy figure and have put on some weight since pageantry," she laughed. "But some of the things I learned is not to compare oneself to anyone else. It's not cool because you can't focus on yourself and what you have to do."
Meeting the celebrated tenor Domingo was more special because she considers him to be from what she refers to as the "golden era of music." Asked to explain what she meant by that, she clarified, stating, "This is just my opinion as someone who studied opera and appreciates music as a whole. It's not just opera or just classical music. It's also like Motown, rock, Elvis Presley, Ella Fitzgerald, pop music. Post WWII from the '50s to probably late 1970s, early 1980s. Music from that period is insanely good. We had the Beatles, we had James Brown. That time period of singing was off the charts amazing and it was the same for opera. Today, we are trying to keep alive what those people did."