Brooklyn, struggling to push up, make strides in this league, beat the Cavs
VINCENT DAVIS | 10/26/2017, 5:16 p.m.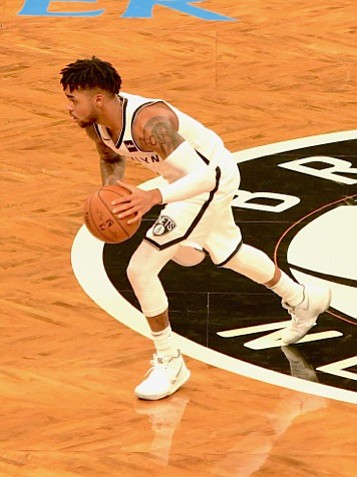 The huge electronic billboard marquee facing Flatbush Avenue from Barclays Center in Brooklyn repeatedly flashed, SOLD OUT in large letters. Just as the Brooklyn Nets seem to be defining themselves, taking the initial steps needed to separate them from the muck that covers the bottom basement floor of the NBA's standings, where they've been the last few years, LeBron James and the Cleveland Cavaliers, the Eastern Conference champions are on Brooklyn's schedule. An early challenge last night for this newly revamped Nets team. Only their fifth game of the regular NBA season.
Brooklyn hosted Cleveland, now featuring Dwayne Wade and Derrick Rose after a close road loss to the Orlando Magic on Tuesday night, a back to back, their first of the season, but bounced back, defeating the Cavs, despite James' triple double, 112-107 in an exciting game for the 17,732 attendees in the building.
"We're not going to celebrate all night long because of this, but I do think we should feel good about ourselves," said Nets' head coach Kenny Atkinson. "I think it's more about bouncing back from last night."
The Nets, who had beaten Orlando here at home on Friday, 126-121, had chances to win again Tuesday night. Brooklyn led late in the game. Tied at halftime, 61 up, they entered the fourth quarter nine points ahead, but eventually gave up the lead losing the game 125-121. "We had our opportunities," said Atkinson. "We had a lot of open looks."
In their first four games, winning two, losing two, Brooklyn had given up an average of 128 points per game. They managed to cap Cleveland, one of the league's most prolific teams under that.
Cleveland, in town also on a back to back, having played in Chicago the night before, a Cleveland victory, 119-112 over the Bulls was led by 34 points from LeBron James who was listed on Tuesday night's game stats as the team's point guard. James added 13 assists at this position. Kevin Love contributed with 20 points and 12 rebounds. James, also known as King James and recognized in some circles as the best player in basketball, has been averaging 27 points, about 7 rebounds and 8 assists since the season began. Close to 18 points and 11 rebounds for Love. James totaled 29 points, 10 rebounds and 13 assists against the Nets.
Brooklyn has been getting strong, consistent play from DeMarre Carroll, an excellent off-season acquisition by this team from the Atlanta Hawks. In their first four games, Carroll, a 6'8" - 215 pound forward drafted in the first round in 2009 by the Memphis Grizzlies, has dropped 17 points in three of their four games, averaging 6.5 rebounds.
"It is big, really big," said Carroll who hit 18 points in last night's game. "I think we learned today. I think we matured in a great way, because last night we had a win. We were up 10, but then we let them come back and beat us. We learned tonight, and we held on to the lead. And we kept fighting."
The Nets also received huge contributions from forward Rondae Hollis-Jefferson (18 points) and guard Spencer Dinwiddie (22 points), members of their starting five, and guard / forward Allen Crabbe (19 points) off the bench. Crabbe was drafted by the Cavaliers in 2013 in the second round. He was traded to the Nets on July by the Portland Trailblazers.
Brooklyn plays across the bridges into Manhattan tomorrow night against the Knicks, then host the Denver Nuggets on Sunday and the Phoenix Suns on Tuesday (Halloween), before embarking on a five game Western Conference road trip beginning next week Friday.