The corruption of amateur basketball has many fathers
JAIME C. HARRIS | 10/26/2017, 5:17 p.m.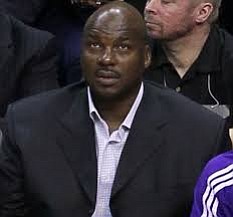 To refer to major college basketball, elite high school prep schools and postgraduate programs as amateur athletics is both laughable and a gross mischaracterization. All are capitalistic entities, engaging in free market principles in which billions of dollars are being exchanged.
Last month, the system, with its sleazy tentacles digging into players as young as 12 years old, led the U.S. Attorney for the Southern District of New York to indict four prominent assistant coaches of men's programs from four Power Five schools, as well as a high ranking executive from sports apparel company Adidas, after an exhaustive FBI investigation.
The assistants, Arizona's Emanuel "Book" Richardson, who has deep roots in New York City basketball, Auburn's Chuck Person, a former NBA standout and college teammate of Charles Barkley at Auburn, Southern California's Tony Bland and Oklahoma State's Lamont Evans, have been accused of taking bribes to steer college players—some unwitting—to agents once the players declared they were leaving college to play professionally.
The Adidas executive, Jim Gatto, allegedly arranged for parents and AAU coaches of high school players to be paid sums of up to $100,000 to attend colleges with which Adidas had lucrative sponsorship contracts, including the University of Louisville, which has a contract with the apparel company for $160 million over 10 years.
The fraud and corruption that permeates AAU and college basketball has many fathers. It has been an inextricable part of the system for decades. But as apparel companies engage in an arms race to sign the most marketable athletes, the need for them to foster relationships with the players and those who have the most influence on the players as early as possible has reached unconscionable depths.
It is not uncommon for an apparel company to relocate a 14-year-old prodigy and his family living below the poverty line in an urban housing project to a comfortable house in a middle class suburb in exchange for that player showcasing his skills for an AAU program and high school sponsored by that company.
Given the exorbitant amount of money the NCAA is paid by networks to broadcast its games and the outrageous compensation major college coaches receive, college players indeed should also reap financial rewards. Inarguably, the system is oppressive and reprehensible, negatively affecting primarily teenagers and young men of color.
It doesn't take the FBI or an experienced legal investigator to recognize the illegalities, exploitation and immorality associated with the so-called amateur basketball system. And as long as there are ambitious, greedy, economically disadvantaged and ego-driven bodies involved, dirty dealings and illegal payments will persist. Which means from now until forever.