Jaden Michael is 'Wonderstruck' in Todd Haynes' new film
Lapa | 10/26/2017, 4:57 p.m.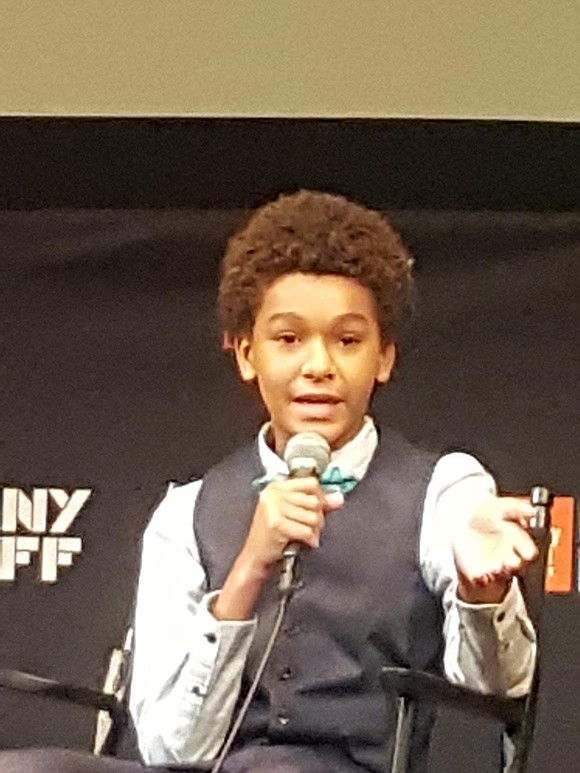 Actor Jaden Michael plays Jamie, a young boy helping Ben (Oakes Fegley) find his father in New York City circa 1977 in director Todd Haynes' terrific new film, "Wonderstruck."
The film made its New York debut at NYFF55 and will open, in select theaters, Oct. 20. Already the Oscar buzz is swirling around this charming film, and Haynes is back with his past muse Julianne Moore. This film is based on Brian Selznick's trailblazing debut novel, "The Invention of Hugo Cabret."
"Wonderstruck" is about a young boy named Ben who longs for the father he has never known. Set in two different time periods, the film is also about a girl named Rose, who dreams of a mysterious actress whose life she chronicles in a scrapbook. When Ben discovers a puzzling clue in his mother's room, and Rose reads an enticing headline in the newspaper, both children set out alone on desperate quests to find what they are missing.
Ben's story is set in 1977 and is told entirely in words, whereas Rose's story, set 50 years earlier, is told entirely with pictures. The two stories weave back and forth before ultimately coming together. Rich, complex, affecting and beautiful, "Wonderstruck" is a stunning achievement from a uniquely gifted artist and visionary.
Michael is Jamie, an Afro-Latino New York City kid who helps Ben navigate the city after he runs away from home. Ben is scared, alone, penniless and deaf because of a recent event that occurred during a freak thunderstorm.
Young Michael has been acting since he was 3 years old, appearing in several programs produced by Nick Jr. and Sesame Street. He has also lent his unique voice to roles, playing Baby Jaguar in "Dora the Explorer." He has appeared in the role of David Diaz in the feature film "Custody" with Viola Davis and Ellen Burstyn. He took audiences and critics by surprise playing the role of the young gangster Rafe in "The Get Down."
Here's what Michael had to share about his role in "Wonderstruck."
AmNews: Tell me a little bit about your character. He's an Afro-Latino kid, right?
Michael: Correct, I play Jamie. His parents are divorced. He lives with his father, in New York City, in the summers. His dad works at the Museum of Natural History and that's where he meets Ben and helps him out with his journey.
AmNews: Any challenges working on the set?
Michael: It was easygoing. Everyone on set was so close, it was easygoing. We bonded so well. It was like family.
AmNews: How did you prepare to play a kid of the late '70s?

Michael: I understood what was happening in that time period.
AmNews: You also had a significant role in "The Get Down" and that musical drama was also set in the 1970s.
Michael: (laughing) Well playing a gangster is much different than my role as Jamie, but I actually did my research on this film as well and I decided to find out more about the culture. I've always thought that if you listen to music it's easier to find a character. I like listening to music because it defines who I am. It makes me special…not that kind of special (jokingly). And so in order for me to get into my character, I like to listen to music from that time period, if the story is set in another era. Or if I think this is something the character might listen to. While I was getting my hair and makeup done, I liked to listen to a lot of '70s rock and some David Bowie, and other people like Fleetwood Mac and Denise Williams' "Free" would always kind of click with me.
"Wonderstruck" was directed by Todd Haynes. The screenplay was written by Brian Selznick, based on his book. The film stars Oakes Fegley, Millicent Simmonds, Julianne Moore, Michelle Williams and Jaden Michael.