Obama campaigns for NJ gubernatorial candidate Phil Murphy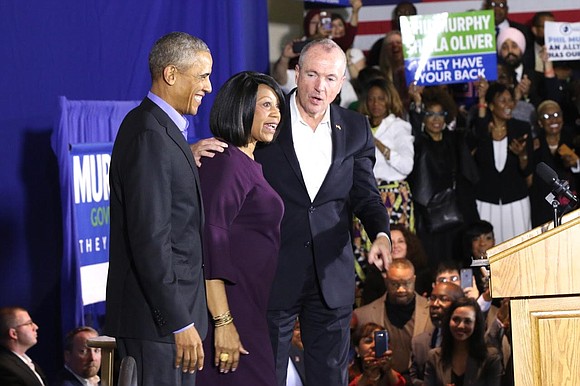 Former President Barack Obama made a stop in the Garden State to speak at an invite-only campaign event Thursday for the Democratic gubernatorial candidate Phil Murphy.
In one of his few public appearances since leaving the White House, Obama spoke for a reported 20 minutes during the event at the Robert Treat Hotel in Newark. The crowd responded to his speech by chanting "four more years."
Although he did not call current President Donald Trump by name, Obama urged the crowd to reject the current political climate, which he referred to as "a politics of fear."
"Some of the politics we see now we thought we'd put that to bed. That's folks looking 50 years back," he said. "It's the 21st century—not the 19th century."
He also encouraged people to make change by going to the polls.
"You cannot complain if you didn't vote; you did not exercise the power the Constitution gives us that people fought for," Obama said. "This is entirely under your control. If you don't like how things are going, you gotta vote."
This week, former President and First Lady Bill and Hillary Clinton campaigned for Murphy during two separate campaign events. Hillary Clinton spoke at a fundraiser event Sunday, and Bill Clinton spoke at a get-out-the-vote rally at an electrician's union headquarters in Paramus Tuesday.