Robbers and killers in home invasion case apprehended, one still sought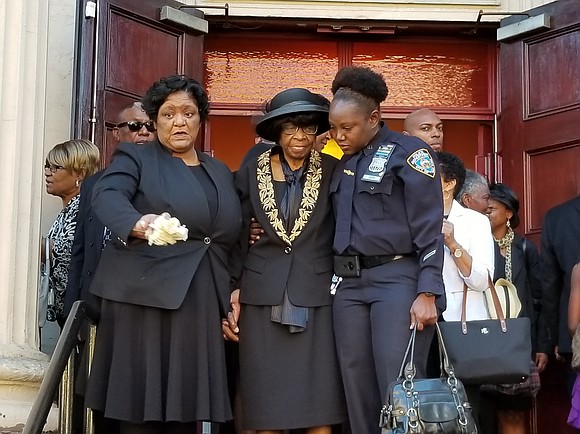 "There are no words to properly capture the outrage our community is experiencing over the death of Waldiman Thompson, a 91-year-old resident of Decatur Street in Bedford-Stuyvesant who, along with his 100-year-old wife Ethlin, were the victim of a deadly home invasion," Brooklyn Borough President Eric Adams told the Amsterdam News. "This godly and big-hearted couple suffered a truly godless and heartless attack that has struck a blow deep in the soul of Brooklyn. Their tragedy is a tragedy for us all."
Friday, Oct. 20, the funeral was held for Thompson, who died during the home invasion, at Hanson Place Seventh-day Adventist Church, in Fort Greene, Brooklyn.
Family—close and extended—electeds, community leaders and the community paid respects at the wake and funeral at the church where Thompson worshiped for more than 30 years.
While initial rumors, plus a speculative suspicion, were widely circulated on the street about who the perpetrators may be, what was not disputed is that the death of this beloved elder violated all manner of sensibilities.
"Our elders are the greatest asset in the community," the Rev. Taharka Robinson, founder Brooklyn Anti-Violence Coalition, said with outrage. "They must be respected, preserved and protected. When individuals can engage in such a heinous act against our senior citizens, it displays a tremendous disrespect and disregard to our seniors and our community. There is definite code of the streets—this was a violation."
Dwayne Blackwood, 27, was apprehended last week and charged with second-degree murder and two counts of assault and burglary. This week his aunt Suzette K. Troutman, 45, was brought in and charged with second-degree murder and two counts of assault and burglary.
Still in the wind at press time is a man seen in a grainy video carrying what is thought to be the lockbox allegedly containing the $5,000 that was the object of the crime.
The NYPD said in a press release, "Pursuant to an ongoing investigation, police are requesting the public's assistance in identifying the following person of interest wanted for questioning in connection to the above mentioned robbery. The person of interest is described as a male, Black, unknown age, last seen wearing all dark clothing, a backpack and carrying what appears to be a locked box."
A $10,000 reward from the chief of detectives and Crime Stoppers has been offered, they advertised.
On Oct. 11, 2017, after tying up the elders, the perpetrators reportedly stole $5,000 from the couple. And although 100-year-old Ethlin Thompson was eventually able to untie herself and call for help, her husband of 27 years suffered a fatal heart attack.
The crime shocked the Bedford-Stuyvesant community. The community outrage was immediate, and word to seek and find the participants was immediate.
The Rev. Robinson told the Amsterdam News, "The cowards who invaded the home of Waldiman and Ethlin Thompson must be prosecuted to the fullest extent of law."
After the wake Thursday, State Committeewoman and Brooklyn District Leader of the 57AD Olanike Alabi told the AmNews, "My thoughts and prayers continue to be with the family and friends of Mr. Waldiman Thompson. There's nothing good about crime. In fact, crime is wrong, and most especially crimes committed against children and seniors. I look forward to justice being served."
Adams added, "This is a time for mournful prayer, and a time for purposeful action. I am personally putting up $1,000 for any information that leads to the arrest and indictment of these violent felons."
He had also made "a call out to our community, particularly my fellow Black men, to step in with the funds necessary to pay for Waldiman's funeral."
Adams concluded, "We strive to make every corner of this borough a safe place to raise healthy children and families, in the name of community elders like the Thompsons who deserve to enjoy their golden years in peace. That mission is intensified today in their blessed memory."