Help! 11 tips to get kids to eat healthy
Article by Kelly Wallace, CNN Video by Sandee LaMotte, Ferre Dollar, Jonathan Schaer and Johnny Hutchens, CNN | 9/2/2017, 9:23 a.m.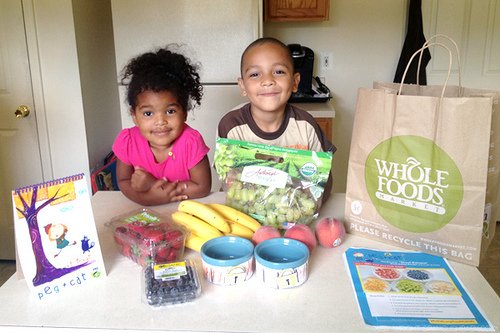 (CNN) -- Ask any parent about the top challenges of raising kids, and getting them to eat healthy would probably be high on the list. Countless parents have kids who just want to eat chicken nuggets, or pasta, or macaroni and cheese, or all of the above, and definitely without any vegetables.
It's a problem throughout the year, but at back-to-school time, it gets maybe a tad more stressful, as parents are looking to start over or at least give their kids lunches that pack a healthy punch and won't get traded away for Oreos or some other sugary snack.
So what's a parent to do? First, don't stress -- we reached out to parents across the country, including a few experts on healthy eating for kids, and they had a ton of great advice. We've boiled down their insights into 11 great tips that are sure to make healthy eating in your household a little less complicated, beginning with what not to do:
Do nots? There are many
Don't let your kids get hooked on sugar, says Agatha Achindu, a mother of three who founded Yummy Spoonfuls Organic Baby Food in 2006. "Sugar is in just about all packaged food these days, in one form or another," said Achindu, who grew up on a farm in Cameroon, West Africa. Banish soda and other sugary drinks from the household, read the labels and don't buy anything with added sugar, she says.
You might not be able to control everything your child eats, especially when your kids are not at home, but you can give them a good healthy foundation. She suggests not bringing junk food into the house: "If it's not there, they won't eat it." Don't plead or threaten or bribe your child to eat healthy food, she says, because those tactics are not effective. And don't judge your child's tastes by your own. "You may not like broccoli, but your child is not you. He/she may love foods that you don't care for," Achindu said.
Make food interesting
Lori Day, an educational psychologist and consultant, says her mom always told her that she was a terrible eater and that it would be karma if her daughter also didn't like to eat well. But that's not what happened. When her now-grown daughter was young, Day thought that if she found food interesting, she'd be more likely to try it. So Day let her daughter shell peas, count them, sort them by size and play with them before putting them in the pot. She loved eating them raw or cooked, Day said.
Same with mussels marinara, which became one of her daughter's favorite foods. She enjoyed inspecting the mussels and looking for the potentially dead ones to throw away, learning about their biology and pulling the cooked shells all the way apart and picking out the meat.
"My main tip is to make food interesting if your child is naturally curious, enjoys science/nature and is willing to engage," Day said.