Help! 11 tips to get kids to eat healthy
Article by Kelly Wallace, CNN Video by Sandee LaMotte, Ferre Dollar, Jonathan Schaer and Johnny Hutchens, CNN | 9/2/2017, 9:23 a.m.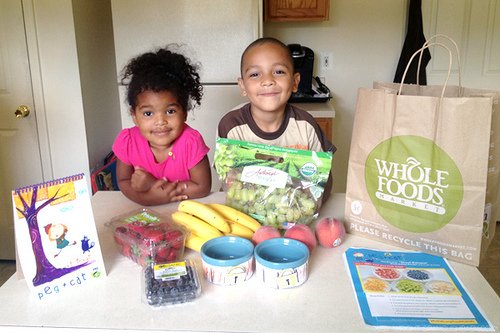 Get the kids involved
Several parents talked about how bringing their children with them to the farmers market or the grocery store and having them help with the cooking can get them more excited and invested in what they are eating. "Kids can be inspired to eat healthy when they are part of the meal and snack planning process," said Margaret McSweeney, host of the podcast Kitchen Chat, on which she has interviewed about 200 chefs, cookbook authors and food industry experts. "A trip to the local farmers market or produce aisle can be an adventure and connect them with the source of food."
Monica Sakala, a mother of two who runs the social media consulting business SOMA Strategies, said she continues to be amazed by the power that growing their own vegetables has had on encouraging healthy eating in her kids. This is their third summer with a vegetable garden.
"They delight in going out back, getting dirty and picking the veggies. I watch them eat them raw," she said. "They seem to delight in what they've grown, and there's never a battle."
Give kids choices
Ava Parnass, an infant-child psychotherapist and author of "Hungry Feelings Not Hungry Tummy," said that from a young age, parents should let their kids choose foods, fruits, vegetables and snacks they like, within reason.
"Give them more room to choose as they get older," she added. And never get into a power struggle with your kids about eating, food or even healthy food, she said. "Make sure you are not overcontrolling, overeducating or over-lecturing them, or they will rebel in the food arena."
Get creative
Rachel Matos, a social media marketing strategist, says her teenage son would live on chicken wings and Pop-Tarts if she let him. He has always been picky about eating his greens but loves his juices, she said. "Instead of arguing every night at dinner, I got a juicer ... and started making him natural fruit juices and smoothies but gradually started adding in kale, spinach and other greens."
He noticed the change in color but continued to enjoy the taste, so as time went on, she added more and more greens. Now, he can drink a kale or spinach drink with no issue. "The juices helped him develop taste for veggies. He also notices how much better he feels when he drinks them consistently," she said.
McSweeney, the podcast host, has another idea, this one for younger kids: Present healthy food in a creative way, such as hosting a purple night. "Everyone dresses in purple for a purple meal. Menu items could include purple peppers, purple cauliflower, purple potatoes, grapes and/or eggplant," she said. "Savor the day!"
Model healthy eating
Our kids watch everything we do, so it should be no surprise that they can be influenced to make better choices if they watch us doing the same. Pam Moore says her kids, ages 3 and 5, always see her and husband eating healthy. "Both my husband and I typically add greens to our eggs (spinach, kale, Swiss chard, whatever is around) at breakfast. I always add greens to my smoothies. I often keep sliced veggies (bell peppers, carrots, cucumbers) washed, sliced and ready to eat for snacks," said Moore, founder of the blog Whatevs.