Dreamers on DACA's end: 'We will not be thrown back into the shadows'
By Ralph Ellis, CNN | 9/6/2017, 8:57 a.m.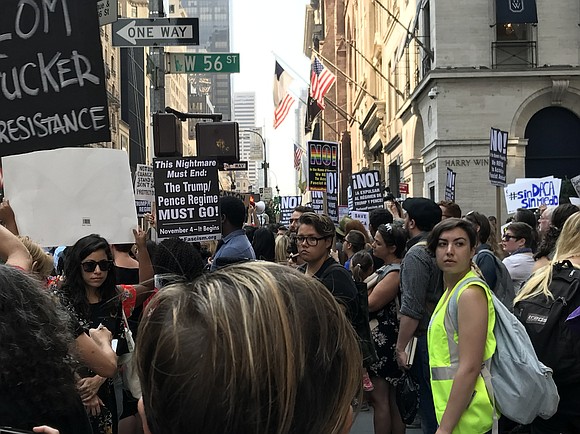 (CNN) -- Protesters rallied Tuesday against the Trump administration's plan to end a program that protects young undocumented immigrants from deportation.
"We are here because I am angry. I am tired of how the immigrant community is treated," Jose Luis Santiago, a DACA recipient, told CNN en Español at a protest outside Trump Tower in New York. "It is time to take action."
In Washington, Gustavo Torres, executive director for the immigrant advocacy group CASA de Maryland, told a demonstration Trump lied to immigrants.
"For many months, he has been telling us, 'I love the Dreamers.' You remember that?" Torres said, referring to the group of undocumented immigrants who were brought to the United States as children.
"He's lying. He's a person we cannot trust because, you know why? He's racist."
Greisa Martinez, director of advocacy for the immigrant rights group United We Dream, said she and other Dreamers are "here to stay," an often-used hashtag on social media.
"United We Dream is ready (to) fight back," Martinez said at a protest across from the White House. "We know this is a symbol of what we saw in Charlottesville, (Virginia) another sign of white supremacists taking over. We will not be thrown back into the shadows."
US Attorney General Jeff Sessions announced Tuesday the Trump administration would rescind the Deferred Action for Childhood Arrivals program, or DACA, an Obama administration policy.
The program had protected nearly 800,000 young undocumented immigrants brought to the United States as children from deportation.
The Trump administration also said it would continue renewing permits for anyone whose status expires in the next six months, giving Congress time to act before any of those currently protected lose their ability to work, study and live without fear in the United States.
Trump's move was praised by groups who support stricter immigration controls and have long decried DACA as executive overreach and argued that it's akin to providing amnesty for lawbreakers.
"President Trump has indicated that he is willing to forge a long-term solution for real immigration reform," the Federation for American Immigration Reform said, "but it takes two sides to make a deal. The American public is watching."
Trump ends DACA, gives Congress window to save it
Dreamers and their supporters held protests across the nation.
In New York, demonstrators chanted "we are here" in Spanish as they marched down Fifth Avenue toward Trump Tower. They sat, locked arms and blocked traffic.
Reporters witnessed several individuals taken into police custody, but it's unclear if they were arrested. Organizers had previously told CNN this was a planned act of civil disobedience.
Students at Denver schools, as well as some teachers and college students, walked out of classes to protest the DACA order.
They carried signs that said "Deport Trump" and one wore a T-shirt that said, "They tried to bury us. They didn't know we were seeds."
Marissa Molina, 25, said she came to the United States with her family when she was 9 and now works as a teacher.