After Mayweather-McGregor, what's next for boxing?
JAIME C. HARRIS | 9/7/2017, 5:31 p.m.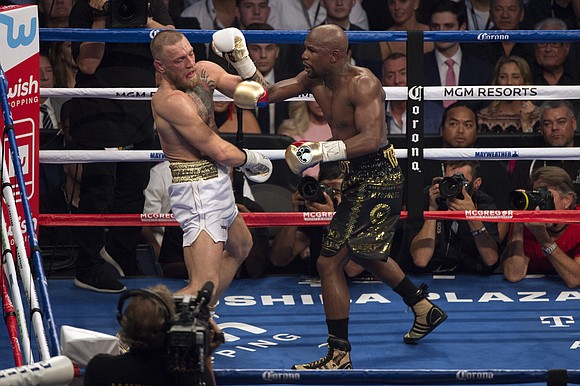 In today's era of boxing, mega-fights happen only once every three years or so and are commonly mischaracterized. More often than not, the matchup comprises two fighters well past their primes and the outcome rarely equals the massive hype. The Floyd Mayweather-Manny Pacquiao fight in May 2015 is a glaring example.
The then 38-year-old Mayweather and the 36-year-old Pacquiao produced a mundane 12-rounds, despite setting a record for pay-per-view buys at 4.6 million in North America and 5.5 million in total. It has yet to be determined if the outrageously promoted Mayweather-Conor McGregor pairing on exceeded those numbers.
Ultimate Fighting Championship President Dana White, whose organization co-promoted the fight in Las Vegas, claims the number surpassed 6 million. However, the official tally at the time this article went to press had not been released.
"We'd love to break the record—if we don't we'll come really, really close," said Stephen Espinoza, the executive vice president and general manager of Showtime Sports, as reported by the website Deadline. The fight was aired on Showtime's pay-per-view service.
"In general with pay-per-view, there is a certain amount of growth between the initial report and when all the buys come in later," Espinoza said. "It's a little too soon to definitively say it will break the record, but it's definitely within reach."
Although Mayweather and McGregor put on a much more entertaining exhibition than Mayweather and Pacquiao, the fight is best described as satisfactory. Mayweather defeated McGregor by a 10th round TKO and seemingly carried him into the later rounds only to avoid having the fight declared a sham by boxing authorities as well as the average fan.
But, at the end, it was merely an exhibition, falling far short of the compelling and authentic display put forth by heavyweights Anthony Joshua and Wladimir Klitschko this past April in London. The championship battle between the big men evolved into a boxing classic as Joshua stopped Klitschko in 11 heart-pounding rounds.
Yet, it barely registered a blip on the sports radar and was primarily viewed by close followers of the sweet science. It was a microcosm of the fight game, in which only a handful of big names attract widespread attention. The biggest name, Mayweather, announced his retirement after dismissing the UFC star McGregor and reaching a mark of 50-0 in his professional career, breaking the great heavyweight Rocky Marciano's unblemished record of 49-0.
With Mayweather removed from the marquee, it's unlikely anyone will emerge anytime soon to equal his combination of ring brilliance, public curiosity, adulation and disdain, generating unparalleled pay-per-view appeal. The Mayweather-McGregor fight was the perfect marketing storm. But as the late boxing historian, Bert Sugar, once remarked to this writer, "You live by hype; you die by hype," in referring to the sport.
Unfortunately, a critical mass of casual fans, which drive pay-per-view buys, are lured more so by spectacle than substance, name recognition over pure competition. If not, far more people would have watched Joshua versus Klitschko than Mayweather-McGregor. Sugar may have been prophetic in stating the sport may suffer death by hype.