American women are a force at the US Open
B.L. OLIVER | 9/7/2017, 5:55 p.m.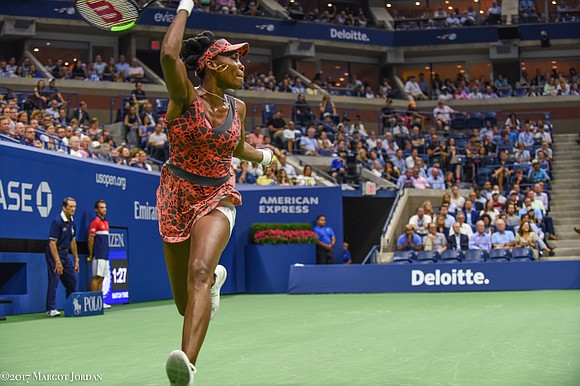 Even in the absence of Serena Williams, the greatest women's tennis player of all time—who less than a week ago gave birth to a baby girl—American women have been a force at this year's U.S. Open. Most notably Black women.
Venus Williams, Sloane Stephens and Madison Keys advanced to the quarterfinals with Williams and Sloane moving on to face each other tonight (Thursday) in the semis. The winner secures a coveted spot in Saturday's final. The 15th seeded Keys looked to join Williams and the unseeded Stephens in the semifinals when she met up with Kaia Kenepi last night at Arthur Ashe Stadium at the Billie Jean King National Tennis Center in Flushing, Queens. Another American, 20th seeded CoCo Vandeweghe, faced top-seeded Karolina Pliskova yesterday hoping to earn a place in the semifinals as well.
Venus Williams, the elder sibling of the remarkable and historic Williams duo, won a classic three-set tie breaker Tuesday night over 13th seeded Petra Kvitova, 6-3,3-6,7-6. She is now one victory away from her second straight Grand Slam final after reaching the final at Wimbledon in July.
Although Williams has played in many epic matches over the course of her extensive professional career, which began in 1994, she maintained that her win over the talented Kvitova was undoubtedly an exceptional achievement.
"Yeah, definitely [it] felt like a special match," Williams acknowledged. "[There were] no easy moments. This match meant a lot to me, obviously, playing at home [in America] and of course being in a major."
Williams, 37, was gracious in complimenting Kvitova for showing admirable perseverance. "It was amazing to see her shine today," she said of her 27-year-old opponent from the Czech Republic. Kvitova humbly accepted the compliment, but her efforts, unfortunately, did not yield the result she desired.
"It wasn't enough, right? Well what can I say? I feel very tired right now," she said after the strenuous match. "Of course as a loser, it's more tiring than as a winner, but I believe I had my chances in the tiebreak. I think it was a good chance for both of us."