Charlottesville might be a modern-day slave rebellion
BRITTNEY M. WALKER | 9/7/2017, 3:40 p.m.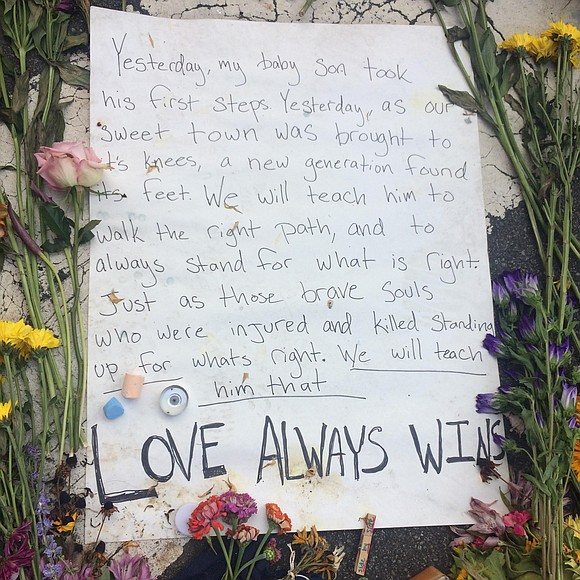 Pulling up to Charlottesville, Va., I expect to be heading into a frenzied chaos of protestors and Klan ralliers. Instead, I am pleasantly surprised with a welcome sign coupled with a giant metal daffodil sculpture, painted to match the flower in nature. The quaint town of a population just over 46,000, 19 percent of which is Black, is striking, with a charming Southern aesthetic many only see in movies. As my road trip partner navigates and I drive us to the historic Downtown Charlottesville, where national attention focused after protests exploded out of control, a bus passes and says something about Charlottesville and displays a diverse group of faces. My initial thought is, "Interesting."
We park and head to the central outdoor mall. In comparison to Manhattan, the mall is approximately three city blocks of shops, restaurants, a yoga studio and theaters. The buildings look preserved, or at least rebuilt to reflect the 18th century, an era when slave labor dominated America's economy.
Our goal in visiting Charlottesville is to talk to residents. While we survey the space, we happen upon the memorial dedicated to Heather Heyer, the white woman from Charlottesville who was killed during the initial series of protests and rallies that sparked national attention. On this side street, between a yoga studio and a jewelry shop, are flowers and chalked notes that read "Love Not Hate" and "Love Trumps Hate," along with other messages of peace, love and unity.
While we explore this area, white people are sauntering in the memorial space, reading messages and taking photos. At some point, my road trip partner, Jacquelynn Suzette, who is a social science researcher, mentions to me that none of the other people in the space will make eye contact with her when she attempts to connect with them. Jacquelynn is Afro-Latina.
We both discuss what "Love Not Hate" actually means in this space, in Charlottesville.
We move on from the memorial and continue surveying the mall area. We happen upon a group of white men staring at a building that could have been a bank in the recent past. They're holding rolls of schematics and dressed similarly in polo shirts and khakis and shorts. They look like contractors.
Jacquelynn asks the group what they're getting ready to do (with the building). One of the men responds with, "We're getting ready to rally." He and a few others in the group laugh haughtily before composing himself to explain that they're building a restaurant.
Jacquelynn and I both smile uncomfortably and walk away.
We come upon two Black men, dressed similarly wearing blue jeans and green T-shirts with the same colorful logo above the left breast. They're on a work break. We introduce ourselves and begin a conversation about the recent activities and tragedies. Throughout the course of the conversation, both men, Anthony (from Charlottesville) and Gerald (from Philadelphia) second each other's sentiments about the town, saying the recent protests and rallies are a product of white people's discontent as local Black leaders are disrupting the power imbalance.