Howard leads strong showing for HBCU football
JAIME C. HARRIS | 9/7/2017, 5:43 p.m.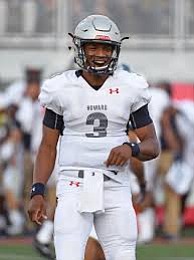 The football programs at historically Black colleges and universities have a long and illustrious history of producing legendary coaches and players. Grambling State's Eddie Robinson is widely viewed as one of best coaches of all time on any level, and Maryland Eastern Shore's Art Shell; Deacon Jones, who played for South Carolina State before transferring to Mississippi Valley State; Jackson State's Walter Payton and Jackie Slater; Mississippi Valley State's Jerry Rice; and Texas Southern's Michael Strahan are among HBCU alumni inducted into the Pro Football Hall of Fame.
It's uncertain if anyone currently occupying a spot on Howard University's team will go on to a decorated career in the NFL, but they nonetheless became a part of HBCU lore this past weekend when the Bison engineered the largest upset ever in college football based on the game's point spread. Ironically, it was achieved against the University of Nevada Las Vegas, in the city that is the heart of legalized gambling in the United States.
Entering Saturday night's match up as a 45-point underdog, Howard stunned UNLV 43-40 to earn a win for the program's new head coach, Mike London, in his first game at the helm. London was previously the head coach for the University of Virginia (2010-2015) and was the associate head coach for the University of Maryland last season.
As is the case with many Football Championship Subdivision programs, formerly known as Division I-AA, with modest athletic budgets, Howard was paid $600,000 by UNLV to face them in what is commonly referred to as a money game, in which a so-called small school accepts a hefty payment from a much larger, heavily funded school in the Football Bowl Subdivision program, formerly known as Division I-A, in what is almost always a certain victory for the FBS team.
Such an arrangement was on display Saturday, when FBS program Ohio University of the mid-American Conference crushed Hampton University of the Mid-Eastern Athletic Conference and FCS 59-0. But later that evening, Hampton's MEAC brethren, Howard, defended the honor of the conference by improbably defeating UNLV of the Mountain West Conference.
The Bison were led by quarterback Caylin Newton, the younger brother of Carolina Panthers star QB Cam Newton, the 2015 NFL MVP. The 5-foot-11, 175-pound freshman from Atlanta accounted for 330 yards of total offense, passing for 140 and rushing for 190 in scoring three touchdowns. The win was the first ever for Howard against an FBS opponent.
Overall, it was a promising weekend for HBCU football as North Carolina A&T (tied for 21st), Grambling (23rd) and Tennessee State (24th) made the FCS top 25 rankings.