Irma pounds Turks and Caicos, threatens Miami
By Jason Hanna, Faith Karimi and Steve Almasy, CNN | 9/7/2017, 6:06 p.m.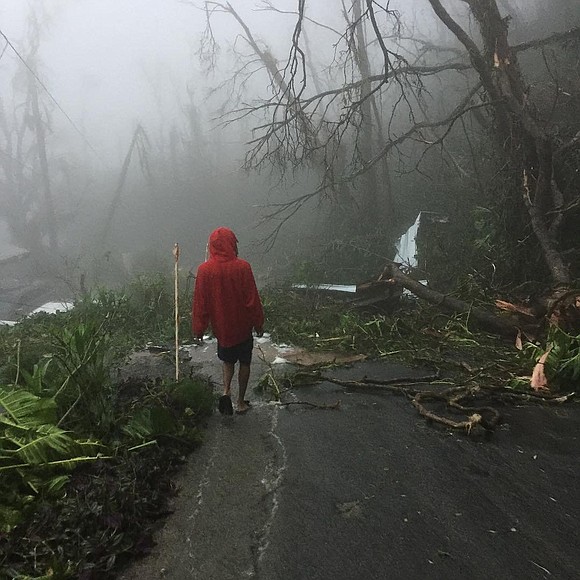 (CNN) -- Conditions in the Turks and Caicos deteriorated Thursday as deadly and massive Hurricane Irma moved in on the islands -- and continued tracking toward South Florida where it could slam Miami this weekend.
"It has become more likely that Irma will make landfall in southern Florida as a dangerous major hurricane, and bring life-threatening storm surge and wind impacts to much of the state," the National Hurricane Center said Thursday.
The hurricane center forecast moved the most likely path of the eye of the storm to the west in its 5 p.m. ET advisory.
"It looks like it's shifting, even though it may be just 20 miles, it puts Miami right in the worst possible position," CNN meteorologist Tom Sater said.
"Because when you look at the formidable storm, the strongest winds, the strongest storm surge, the bands of heavy rain are always in that north, northeastern quadrant.
But Sater cautioned that some models show the storm farther west and some farther east. It is still more than 600 miles from Florida.
Irma -- a Category 5 storm churning in the Atlantic with 175 mph sustained winds -- killed at least six people a day earlier as it devastated small northeastern Caribbean islands such as Barbuda and left hundreds of thousands of customers in Puerto Rico without power.
"Regardless of which (Florida) coast you live on, be prepared to evacuate," Florida Gov. Rick Scott said Thursday at a news conference, with forecasters warning the storm could reach South Florida by Sunday.
Complete coverage of Hurricane Irma
Mandatory evacuations have been issued for the Keys and parts of Miami-Dade and Broward counties near the ocean, but Scott said others in Florida need to watch Irma's path and be ready to move.
"This is not a storm you can sit and wait through," he said. He added later: "You don't have to drive hundreds of miles or leave the state to be safe. Go to shelters."
Georgia, too, is ordering coastal evacuations. People in the Savannah area and everywhere along the coast east of Interstate 95 -- including Brunswick and St. Simons Island -- are ordered to leave, starting Saturday, Gov. Nathan Deal said.
Irma still was battering the mountainous, northern parts of Haiti and the Dominican Republic on Thursday afternoon. It could dump up to 15 inches of rain there -- an amount that could trigger dangerous flooding and mudslides, the US National Hurricane Center said.
Hurricane Irma: Live updates
Meanwhile, the northeastern Caribbean islands just hit by Irma are anxiously watching Hurricane Jose to the east. On Thursday, Antigua and Barbuda issued a hurricane watch for Jose, which could pass close to those islands Saturday. Prime Minister Gaston Browne said the government has called for voluntary evacuations from Barbuda.
Irma left at least six people dead Wednesday, including four on St. Martin, one on Anguilla, and one on Barbuda, officials said. The latter is barely habitable, with nearly all its buildings damaged, the Prime Minister of Antigua and Barbuda said.