Liberty head into playoffs on a roll
LOIS ELFMAN | 9/7/2017, 5:36 p.m.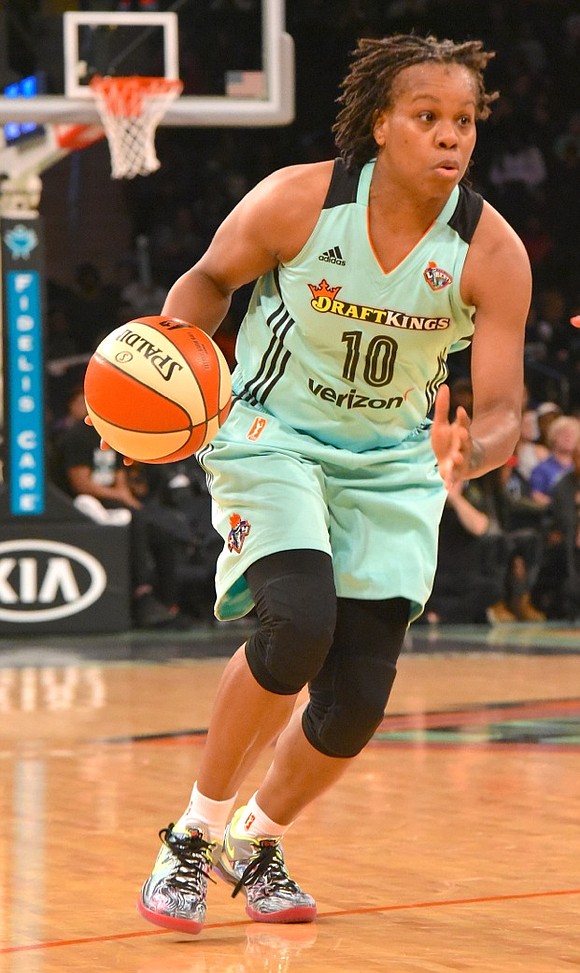 "We know who we are," said New York Liberty coach Bill Laimbeer after the team's final home game of regular season play, an 81-69 win over San Antonio Stars. "We're going to play our defense and get our rebounds, which give us a chance to win every game."
He added, "Overall, I thought it was a good record at home this year. The fans enjoyed themselves. They seem to like this team, especially when we're winning. So now it's on to the playoffs. Hopefully, we get another home win."
San Antonio, already out of playoff contention, played hard, hoping to end the season on a positive note. Laimbeer gave the Liberty bench players ample minutes, putting Tina Charles and Epiphanny Prince in only when things got close.
"[The season] started off rough, but we didn't give up on ourselves; we just knew that we have to continue to get better and grow. We're enjoying the game and playing together, and it shows," said guard-forward Shavonte Zellous.
Guard Sugar Rodgers described regular season play as fun on and off the court. "We're trying to accomplish something bigger than all of us," said Rodgers, who hopes to see a sellout game during the playoffs.
"We have the momentum going into the playoffs," said rookie forward Nayo Raincock-Ekunwe. "The atmosphere, I love to play here. What an honor to call MSG our home court."
The final home game provided a poignant and powerful moment for Charles. In attendance was Dan Carlson, a Texas man whose life was saved by an automated external defibrillator placed at his workplace by Charles' Hopey's Heart Foundation.
"What Tina is doing is for a great cause, saving lives," said Zellous. "It's great a life she saved was able to come and see her face to face."
Zellous noted that Charles is a teammate who wants the best for everyone. "She's a player that doesn't take credit for herself," said Zellous. "She's always talking about the team."
A down-to-the wire 82-81 win over the Dallas Wings on Sunday gave the Liberty a 10-game winning streak, matching the team's longest streak, established in 2010. It clinched the third seed in the playoffs. The Liberty starts playoff action at Madison Square Garden Sunday versus the winner of the first-round game between the Wings and the Washington Mystics.