New York Amsterdam News Endorsements Part Two
EDITORAL | 9/7/2017, 2:25 p.m.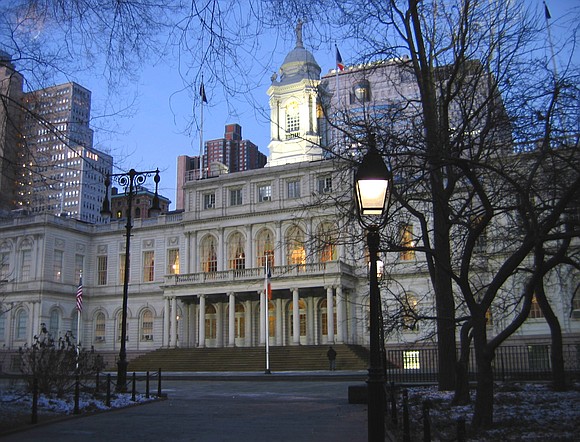 The Bronx is a diverse borough on all fronts—racially, economically and culturally. It has a population that varies from extreme wealth to extreme poverty. The terrain goes from lush parks to vacant lots, and there are many ethnicities and wonderful cultures. Every council district shares these strengths and challenges. In the Bronx we are making two endorsements and here they are.
MEMBER OF THE CITY COUNCIL 13TH DISTRICT
In the 13th Council District we find some of the tonier areas of the Bronx, as well as solid working-class areas that are the backbone of this city. A lack of good transit options in the eastern part of the Bronx, and long commutes and poor service plague the area. Transportation is one of the major issues facing the district. If elected Marjorie Velazquez pledges to fight for better options and for funding of these options including ferry service and the construction of the new Metro North station. But these are not her only priority. A daughter of the Bronx, Marjorie knows firsthand what the New York public schools can do and what needs to be done to make them better. She also knows what it means to persevere. In 2012 she faced life-changing injuries in a workplace accident, and then a car crash that left her disabled for a short time. She navigated and struggled through a system of insurance and health care that was broken but she still came out with the will to change the system and give back. For her will, perseverance, fortitude, intellect and dedication to her community we endorse Marjorie Velazquez for City Council.
MEMBER OF THE CITY COUNCIL 14TH DISTRICT
So many New York stories are immigrant stories. Many City Council members or those running for a seat are immigrants themselves or the children of immigrants. Randy Abreu, first-generation American, was born and raised in the Bronx to Dominican parents, attended public schools and went to college with the help of New York State's Higher Education Opportunity Program. He continued on to law school and then went to Washington where he was appointed by former President Barack Obama to serve inside the U.S. Department of Energy. And now he has decided to come home. He has come home because he deeply cares about his community. He understands the opportunities that are out there and wants them available for all. He wants to make sure that the city does a better job of outreach and inclusion when it comes to women and minority-owned businesses; that there is more funding for schools and that technology is more of a priority in them; and that the city creates a requirement for local hiring on city-funded projects. He wants to use his experience in DC to bring green energy to the Bronx and reduce harmful emissions. For all these initiatives and many more we endorse Randy Abreu for City Council
MEMBER OF THE CITY COUNCIL 21ST DISTRICT
Francisco Moya has been in Albany as an assemblyman representing his Queens District for more than six years. In his six years he has fought for workers' rights, immigrant rights and affordable housing. Now he wants to bring it more local and fight on the ground to help the local schools. He also wants to bring in more funding to reduce class size and increase after-school programs, and to protect the programs for senior citizens that have been threatened to be cut, as well as to increase the number of seniors who can benefit from them. He is also committed to creating more affordable housing and to redevelop Willets Point with a landmark "Worlds Market" to highlight the local cultures of Queens. We believe that Francisco Moya is the best person for the job and therefore we endorse him for City Council
MEMBER OF THE CITY COUNCIL 28TH DISTRICT
As most parents know when you drop a child off at school each day that is not the end of your involvement in their education. Sometimes it takes a lot more to ensure that your child gets a quality education and you need to be involved on so many different levels. Such is the case with Adrienne Adams. Adrienne herself was a product of the New York City public schools. But when it came time for her children to part of the NYC system she took it upon herself to become a big part of it too, and as she says it was her "on-ramp" to public service. It was through the schools that she found her niche for advocacy. She has served as the chairwoman of Community Board 12 in Queens. She was a corporate trainer for Fortune 500 companies and has been a champion for her community. She is ready to be elected so that she can do more good in her community and know what it takes to make change happen, both internally and externally though her training. It is for her commitment, tenacity and knowledge that we endorse her for City Council.
MEMBER OF THE CITY COUNCIL 41ST DISTRICT
The 41st Council District is one of those districts that has so many people running that the list is too long to recite, but there are nine candidates. The one candidate that has been around the block a few times and brings such a breadth of experience is Henry Butler. He was born in Bed-Stuy, Brooklyn, and began his career working at a New York City Housing Authority community center. In the next iteration of his career he worked as a caseworker for the Office of Child Support Enforcement. In his next career Henry became a conductor with the New York City Transit Authority, which provided him with the platform to become the political organizer for the Transport Workers Union in Brooklyn. Now he currently serves as the District Manager for Community Board 3. He has been inside the city agencies that are some of the most troubled. He understands the landscape of what needs to be done to fix them. He is an organizer, a mentor, a small-business owner, a parent and he is the candidate that we endorse for the 41st Councilmanic District.
WESTCHESTER COUNTY LEGISLATURE 16TH DISTRICT
When Christopher A. Johnson went to work for Andrea Stewart-Cousins' campaign for State Senate he did so because he felt the need to give back to his community. He worked with the senator for several years and became her chief of staff, before he decided to strike out on his own. In 2011 Christopher won his election in Yonkers to represent the 1st District in the Yonkers City Council. He was re-elected in 2015. Now he is running for the 16th District for County Legislature. Christopher is ready to fight for those most at risk, for those most in need. From the young to the old, on issues of education to homelessness, he is ready and is dedicated to continuing his fight to protect those that need it most. He doesn't want families to have to make choices between bad and worse. He wants good options when it comes to education and child care, and realizes that because people find themselves in hard situations does not mean that they are "less than" and should not be treated as such. We believe that Christopher Johnson will be good for Yonkers and that is why we are endorsing him for the Westchester County Legislature 16th District.
JUDGE OF THE CIVIL COURT OF KINGS COUNTY MUNICIPAL DISTRICT 6
Derefim Neckles