Remembering Simeon Wright—Emmett Till's cousin
Herb Boyd | 9/7/2017, 4:58 p.m.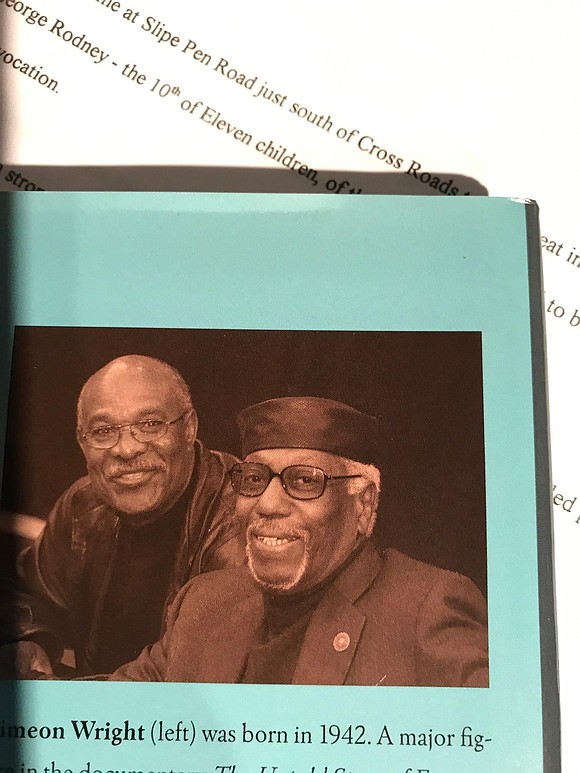 The only concern Emmett had about the incident was that they not tell Mose Wright about what had happened, lest he be sent back to Chicago. They promised to keep quiet about it, but Carolyn Bryant didn't. When she told her husband, Roy, and his half-brother J.W. Milam, what had happened, they set in motion a tragedy that even today, with a number of books and film projects in process, continues to be an unforgettable moment.
There is no need to rehash the subsequent trial in which the family expected no justice, or the later confession of their crime to William Bradford Huie of Look magazine for $4,000. What should be noted was the courage of Mamie Till Bradley (later Mamie Till Mobley), who brought her son's battered body back for funeral services in Chicago. Her determination to let the world see the result of the lynching of her son at an open-casket funeral gave the murder international exposure.
It was the photos of Emmett's brutally disfigured face that captured the nation's attention and, even many years later, Beauchamp's interest and tireless commitment to give that tragedy more resonance and more believable human dimension.
"I'm grieved beyond expression and heartbroken for the loss of my dear friend to whom I had the pleasure of working with and learning from for most of my adult life," Beauchamp said in a text message about Wright. "It seems like yesterday, when we first started the journey together to expose the truth surrounding the murder of his cousin. Next to Mother Mobley [who died Jan. 6, 2003], Simeon was one of the most fearless and courageous people I've ever met. He had the biggest heart and was a man of great wisdom. It's going to be very difficult to continue our journey without him."
Wright, on resuming his life in Argo after leaving Mississippi, had to endure a similar period of being all at sea, and it would take years for him to push Till's murder and the travesty of a trial in which, although he was an eyewitness to the abduction, only his identification of Till's ring accepted as testimony, into the deeper recesses of his mind.
There is not space here to consider even a sizable portion of his memoir that details his coming of age in Chicago, his work as a pipefitter, his supportive wife and the jubilation they enjoyed with the passing of the Till Bill, creating a cold case unit at the Justice Department to investigate unsolved civil rights murders, something Beauchamp has done proficiently and exhaustively.
"The Civil Rights Cold Case Initiative was first and was created in 2006," Beauchamp further explained, "by the FBI and DOJ inspired by the reopening of the Till case.  Till Bill 1 followed and was signed into law in 2008, and of course the reauthorization of the Bill happened in 2016 signed by Obama before he left office."
I hadn't heard from Wright in several months, although I was reminded quarterly with the arrival of royalty checks of just how energetically he had been in promoting the book. It was clear from the size of the checks that Wright had become a motivational speaker of some renown.
There may still be more checks to come, but there will never be another Wright, and the plans that were underway to have us reunite in Pittsburgh as we had previously done in Detroit, is another sad reminder of how much he meant to me and to the rest of the world who will, I hope, read his book to get a full picture of his indomitable, unimpeachable integrity.
I remember the last paragraph in his book and his advice to aspiring writers, journalists and future lawyers, or anyone planning on working in the communications field: "If you want an accurate account of any story, go to the primary sources. They know exactly what happened."
Wright knew and he can still be consulted.