Trump rescinds DACA
HERB BOYD Special to the AmNews and NAYABA ARINDE Amsterdam News Editor | 9/7/2017, 10:47 a.m.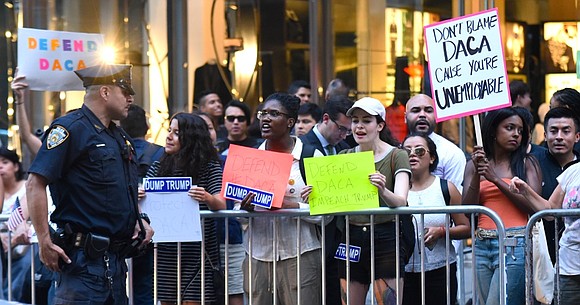 It was devastating enough for documented immigrants when Hurricane Harvey ripped through Houston's corridors. Now, with the announcement that the Trump administration will rescind the Deferred Action for Childhood Arrivals program, the undocumented immigrants, the "Dreamers," will experience another blow, this one portending mass deportation.
Tuesday, Attorney General Jeff Sessions, at the Justice Department, said, "I am here today to announce that the program known as DACA that was effectuated under the Obama administration is being rescinded."
Beyond the unsettling impact it will have on some 800,000 undocumented immigrants who were brought to the U.S. as children—the Dreamers, —the key words above are "effectuated under the Obama administration," and are another example not only of Trump's-mean-spirited hostility to certain ethnic groups but also of his overall purpose of eradicating every semblance of the previous administration.
Trump blamed Obama for creating the program through an executive authority and urged Congress to resolve the situation.
Sessions said the Department of Homeland Security will stop processing any new applications for DACA as of Tuesday. The action was roundly and loudly condemned.
At least 42,000 dreamers reside in New York City according to New York State Attorney General Schneiderman.
Immediately, the protests erupted across the nation. The Rev. Al Sharpton, president of the National Action Network, was among the first to voice his anger about the decision.
"The Trump administration and Attorney General Sessions' decision today to 'rescind' DACA is but another example of an anti-equal opportunity, anti-civil rights agenda that has no basis in fact," Sharpton said. "There is no evidence that Dreamers steal away American jobs. There is evidence, however, that 91 percent of Dreamers are employed and contribute to the American economy. The National Action Network will do everything in its power to support the rights of Dreamers looking to work and be a part of the American dream."
Sharpton also, in effect, anticipated Trump's congressional suggestion, stating, "The goal of members of Congress should be ensuring that DACA is a strong and reliable protection for immigrant youth, and stopping this administration's mass deportation agenda. We must hold Congress accountable to prevent these attacks on the vulnerable and develop an effective policy for DACA recipients that will avoid these punitive effects on their lives and families."
There are some early indications that GOP members of Congress reject rescinding the program, mainly worried about how it will affect the midterm elections.
 Noted immigration attorney Brian Figeroux told the AmNews, "As a member of the American Immigration Lawyers Association for two decades, I am saddened by President Trump's disdain for young immigrants, mostly Blacks and Hispanics, who former President Barack Obama, granted relief to legally work under DACA, while the DREAM Act lingered in Congress. This, unfortunately, is the same president, Donald Trump, who stood with the KKK in all the violence in Charlottesville, Va., not condemning the KKK. Again, unfortunately, President Trump has shown the American people his true colors at the expense of innocent youths."
The founder of Figeroux & Associate stated, "As of Sept. 5, 2017, the government will no longer process any new DACA applications. Individuals who currently have DACA will be permitted to retain their status until the current expiration date listed on the Employment Authorization Document. DACA recipients whose EADs expires before March 5, 2018, will be permitted to apply for renewal, but the renewal application must be filed before Oct. 5, 2017. DACA recipients with an EAD that expires after March 5, 2018, will not be permitted to renew their status. At this point, we understand the announcement to mean that after March 5, 2018, when DACA recipients' EAD expires, they will return to whatever unauthorized status they possessed at the time they acquired DACA."