To understand Black America's anger, watch the video
By Issac Bailey | 9/9/2017, 7:28 a.m.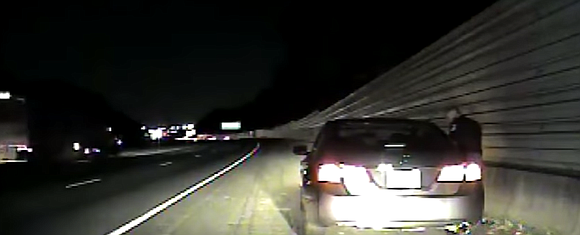 (CNN) -- Cobb County Lt. Greg Abbott of Georgia will no longer be a police officer after a long career because he told a white motorist during a traffic stop, "you're not black. Remember? We only kill black people. Yeah. We only kill black people, right? All the videos you've seen, have you seen (inaudible) people get killed?" He is retiring after being slated for firing.
Is what Abbott said in a July 2016 traffic stop -- recorded on a dashcam -- worse than what Officer Michael Amiott did last month to Richard Hubbard III in Euclid, Ohio?
In the video, Amiott can be seen forcefully pushing Hubbard against his car and repeatedly punching him, in a violent struggle, after a stop for minor violations. According to a police statement, Hubbard "ignored the order to face away" and "began physically resisting," but nothing on a bystander's video, or on the dashcam video, shows that's true.
Hubbard, who was charged with driving on a suspended license and resisting arrest, is shown cooperating with Amiott -- and then the officer slams him against the car. After telling Hubbard to face away from him, he gives him no time to comply before applying force. Amiott said in a police report, "I began using closed fist strikes to the face and head of the suspect in order to end his resistance."
Watch the video to see how this really went.
But Amiott was not immediately fired when the video surfaced, though the Cuyahoga County Prosecutor's Office is investigating the arrest and consulted with the U.S. attorney's office in Cleveland, according to a report in the Los Angeles Times.
It should be noted that Amiott had resigned from a previous job as a police officer after filing a false report, according to a Mentor Police Department internal investigation, and, that his Euclid personnel files show has been cited for violence on the job before, according to the report in the Los Angeles Times. Indeed on Saturday the Euclid mayor added 30 days to his existing suspension while she reviews his prior conduct before deciding whether to allow him to return to patrol.
But what happened to Hubbard pales in comparison to what happened to Charneshia Corley in 2015 in Houston, video of which was recently released by her attorney. He was right to describe it to Houston TV station KRIV as "rape by cop." Corley says officers pulled down her pants and conducted a cavity search that included her vagina.
Harris County attorneys deny this, saying her pants fell down and that they conducted a visual strip search. Watch the video and judge for yourself.
My money is on Corley's version of events. Why? Just think about it. In the best-case scenario, police in Houston are arguing they held a pants- and underwear-less woman down on the ground for several minutes and forced her to spread her legs while they visually examined her most intimate parts. That's how they are defending what they did!