Clinton: Trump's inauguration speech was 'a cry from the white nationalist gut'
By Sophie Tatum, CNN | 9/10/2017, 11 a.m.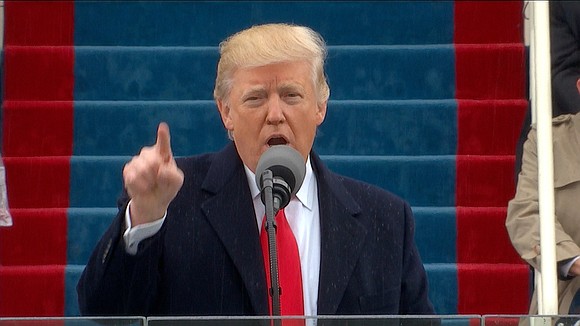 (CNN) -- Hillary Clinton said being at President Donald Trump's inauguration was "like an out-of-body experience" and that his speech was a "cry from the white nationalist gut."
"But I'm a former first lady, and former presidents and first ladies show up," Clinton said on "CBS News Sunday Morning." "It's part of the demonstration of the continuity of our government. And so there I was, on the platform, you know, feeling like an out-of-body experience. And then his speech, which was a cry from the white nationalist gut."
Clinton also told CBS's Jane Pauley that Trump tapped into a "nostalgia" with his supporters.
"He was quite successful in referencing a nostalgia that would give hope, comfort, settle grievances for millions of people who were upset about gains that were made by others," Clinton said.
Pauley then pressed on: "What you're saying is millions of white people?"
"Millions of white people, yeah. Millions of white people," Clinton replied.
She added, "I understood that there were many Americans who, because of the financial crash, there was anger. And there was resentment. I knew that. But I believed that it was my responsibility to try to offer answers to it, not to fan it. I think, Jane, that it was a mistake because a lot of people didn't want to hear my plans. They wanted me to share their anger. And I should've done a better job of demonstrating 'I get it.'"
Clinton said she had no idea what the outcome would be heading into Election Day. But around midnight, when results were showing Trump as the likely winner, she said she decided, "Well, you know, looks like it's not going to work."
"I just felt this enormous letdown, just kind of loss of feeling and direction and sadness," Clinton said.
Clinton said she called the President-elect and the White House after having the realization. The next day, she went home to her residence in New York.
"It was a very hard transition. I really struggled. I couldn't feel, I couldn't think. I was just gob-smacked, wiped out," Clinton recalled.
The former secretary of state also recalled the moment then-candidate Trump stood close behind her while the two faced off during the presidential debate in St. Louis.
"It was so, just, discombobulating," Clinton said. "While I'm answering questions, my mind is going, 'OK, do I keep my composure, do I act like a president, am I the person people can trust in the end to make hard decisions?' Or do I wheel around and say, 'Get out of my space, back up you creep.' Well, you know, I didn't do the latter."
Clinton is speaking out about the 2016 campaign, much of which is detailed in her new memoir, "What Happened," published by Simon & Schuster.
CNN purchased a copy of Clinton's book from a Jacksonville, Florida, bookstore a week before its widespread release.
"I go back over my own shortcomings and the mistakes we made," Clinton writes. "I take responsibility for all of them. You can blame the data, blame the message, blame anything you want -- but I was the candidate. It was my campaign. Those were my decisions."