De Blasio, incumbents emerge victorious on primary night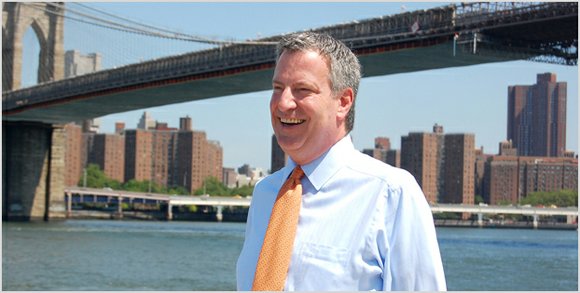 In other important primary races, Bronx Borough President Ruben Diaz Jr. won his primary with 86 percent of the vote over challengers Camella Price and Avery Selkridge. Bill Perkins emerged from a pool of six to maintain his spot in the Democratic primary for New York City Council District 9, Ydanis Rodriguez beat out Josue Perez and Francesca Castellanos in his primary and Andy King, Ruben Diaz Sr., Laurie Cumbo, Mathieu Eugene, Inez Barron, Jumaane Williams and Debi Rose won their primary races.
Two City Council primaries that became controversial for different reasons took place Tuesday. Although Rivera, the former legislative director for outgoing Council Member Rosie Mendez, easily won her primary with 61 percent of the vote, the candidate became embroiled in some controversy. In the days leading up to the primary, the New York Post reported that despite the fact that Rivera lived in a Section 8 apartment, she had pictures of her husband Jamie Rogers (chair of Community Board 3) boat racing on a yacht that belonged to his father. Rivera said that she would leave the apartment if she became a Council Member. Rivera's district, District 2, covers the Lower East Side, the East Village, Rose Hill, Kips Bay, Murray Hill and Gramercy Park.
"This is where I have spent almost 34 years of my life living and loving and breathing and doing and serving and really just wanting to make every single person feel like they're being heard," Rivera said during her victory speech.
In another testy Democratic primary, for City Council District 7, Mark Levine handily defeated Thomas Lopez-Pierre with almost 75 percent of the vote. Lopez-Pierre drew the ire of several political officials when he ran his campaign discussing "Jewish landlords" and how they've ruined housing in the city. After the primary, Levine fired back at Pierre for his rhetoric.
"At a time when decent people of all backgrounds need to denounce the hatred coming from the Alt-right in Charlottesville and beyond, I am elated that my neighbors in the 7th Council District chose our positive vision of unity over a message of division and intolerance," said Levine, whose council district covers Morningside Heights, Manhattanville, Manhattan Valley and Hamilton Heights. "Despite spending nearly $100,000 in campaign finance matching funds, my opponent's vitriolic propaganda was unequivocally rejected by the Upper Manhattan community last night. I look forward to serving this amazing community for another four years, and I am eager to continue working to make our city a more fair and prosperous place for every New Yorker."