Merging academia and activism for race relations
Brittney M. Walker | 9/14/2017, 4:14 p.m.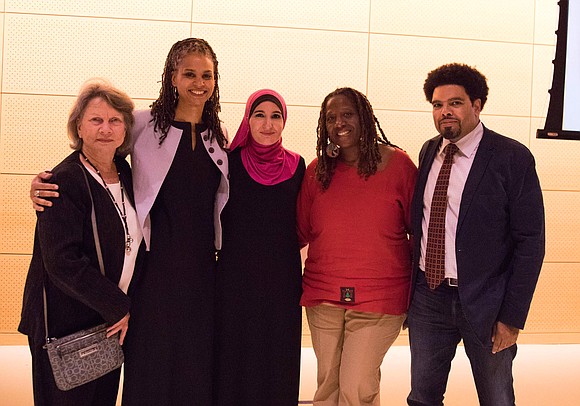 In the months since President Donald Trump's inauguration, activists and scholars have converged, condemning his violent and divisive racial rhetoric. In response to Trump's rhetoric, leaders are working to build a resistance against an agenda that not only divides the country but also sets precedence for violent and discriminatory policies and actions.
The New School, known for its innovative work in areas of social change, has launched "Race in the U.S.," a free and public lecture series on race relations in America. It features a dynamic lineup of conversations with community activists, scholars and policy changers.
As if it were planned for such a tense moment in our country, the lecture series was originally inspired by New School students' desires to connect on the topic of race.
Michelle DePass, dean of the Milano School of International Affairs and one of the course organizers, said students were inspired by the work of the Black Lives Matter movement years ago and started galvanizing around race politics then. Now, with the launch of the lecture series, there is an opportunity to build a new program that integrates both an academic class of advocates and activists in the area of race.
"As we follow and work with our student body, we find that our students are very intersectional, and we realized that after this election, we cannot be in our silos anymore," DePass said. "What this course is really doing is intersecting race with so many different aspects and elements of our society and lifting up the cover and saying that you really think you exist in this safe zone or this zone where the issues of the system have not touched you, but they actually have."
What do we do in the toxic climate we have today? That is the question for which the lecture series hopes to stir up an answer. The New School social justice masterminds and scholars DePass, Maya Wiley and Darrick Hamilton joined forces to create this platform for impactful conversations with activists, organizers and scholars such as Shanelle Matthews of Black Lives Matter and Linda Saursour, a Muslim rights advocate and Women's March organizer.
Wiley, fairly new to the New School staff, serves as the VP for social justice at the university. She previously served as a counsel to New York Mayor de Blasio, advising on legal matters. Now she is
working with the school to integrate social justice actions from the school community level to engaging students on social justice matters through curriculum.
This course, she says, is about engaging various groups within the community of social change both in academia and on the grass roots level.
"One of the things that we've always had at the New School is academics who are not just researching areas of injustice and inequalities, but are also thinking about how they get solved," Wiley said. "So part of the 'new' in the New School is forms of pedagogy that work on and engage in real world solutions."
Hamilton, who oversees the Ph.D. students within the Milano School and is an associate professor of economics and urban policy, is anticipating that the course will be a training ground for an "army of social justice warriors."
Through public lectures like those offered in "Race in the U.S.," students will be challenged by ideas and equipped with the tools they need to enact social change in strategic ways.
The organizers of the course believe that without properly understanding how to read and interpret data, activists cannot serve their causes, and it is in this way the worlds of academia and grass roots organizing converge.
"This course would have existed whether or not Donald Trump was president because we were talking about it well before the election was concluded," Wiley stated. "But I do think it's elevated the critical nature of the time we are in, that the discourse of what happened during the campaign has become the national discourse. I think about our students that are both active and horrified at the world they are inheriting and having some space not only about what it means, but how they can do something."
The course will be held Mondays through Dec. 11, 2017 at the New School. It will also be available on Livestream. It is free and available to the public. For more information, visit https://courses.newschool.edu/courses/UTNS2000?sec=7497.