Mets and Yankees travel opposite paths this season
Jaime C. Harris | 9/14/2017, 5:11 p.m.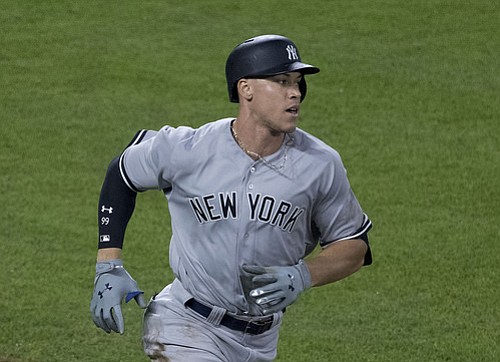 It's been a tale of two seasons for the Mets and Yankees. The latter is on pace to earn a spot in baseball's postseason tournament whereas the former has been an abject disappointment. They, in essence, have experienced a role reversal, given the expectations and predictions for both going back to spring training in February.
The Yankees, who entered this season with the primary objective of developing their sterling young talent and preparing to be a World Series contender in 2018, find themselves in the heart of a pennant race as they begin a four-game series tonight (Thursday) against the Baltimore Orioles. 
Manager Joe Girardi's team was four games behind the first-place Boston Red Sox in the American League East last night before playing the final game of a three-game series versus the Tampa Bay Rays at Citi Field. The series, a Rays home game, was moved from Tampa to the Mets' stadium as a result of Hurricane Irma. The Yankees were leading the wild card race, three games in front of the Minnesota Twins, with 18 games remaining. 
They were led by a pair of relative baby bombers, 25-year-old rookie right fielder Aaron Judge and 24-year-old second-year catcher Gary Sanchez. Judge was the American League leader in home runs with 41, and Sanchez was tops at his position with 30. The duo represents both the present and future of the franchise.
Conversely, the Mets' season has been arduous and disastrous. Injuries devastated their pitching staff almost out of the gate and they had no means to overcome the obstacle. After an encouraging five-game winning streak from April 9 through April 13, the losses quickly began to pile up, and their plunge below .500 grew deeper and deeper. Now, with 17 games to go, the Mets were 63-81 before their game against the Cubs last night in Chicago. Additionally, Yoenis Cespedes, their five-tool star outfielder, has been limited to 81 games as the result of injuries.  
With the fragile state of pitchers, the Mets' staff, once viewed as one of the potentially greatest assemblage of young arms over the past several decades, is likely never to come close to such lofty expectations. Their shortcomings, in large part the result of injuries, are at the core of the Mets' 63-81 record. And unlike the Yankees, other than 24-year-old outfielder Michael Comforto, who was selected to the National League All-Star team this season, the Mets do not have any exceptional young positional players. 
So, after making it to the World Series in 2015 and achieving a playoff berth last season, seemingly poised to surpass the Yankees as the most exciting and compelling baseball team in New York, the Mets reign as the kings of the city was short-lived.