Protests erupt after ex-cop Jason Stockley found not guilty in black man's death
Dakin Andone and Faith Karimi, CNN | 9/15/2017, 10:02 p.m.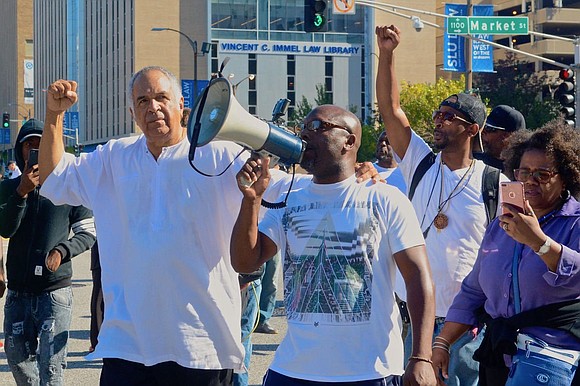 (CNN) -- Thirteen people were arrested during protests Friday in downtown St. Louis after a judge found former police officer Jason Stockley not guilty of first-degree murder in the 2011 shooting death of black motorist Anthony Lamar Smith.
Four police officers were assaulted, with one treated for a hand injury, officials said.
Soon after the verdict, protesters and activists gathered outside the courthouse to voice displeasure. Some could be seen locking arms and praying together, while others held signs, chanting, "No justice, no peace."
While for the most part the protests started peacefully, St. Louis police said Friday evening that demonstrators smashed the windshield of a police vehicle. Officials said violence would not be tolerated.
In a separate tweet, police declared the protest no longer peaceful, and that protesters ignoring commands would be subject to arrest.
Protesters made their way to police headquarters and called for police resignations and an economic boycott of St. Louis, the St. Louis Post-Dispatch newspaper reported.
Police said that some officers were hit by water bottles.
"I am proud of my officers," acting police Chief Lt. Col. Lawrence O'Toole told journalists in a briefing on Friday evening. "They have used great restraint today."
O'Toole said, "Officers deployed Mace after an officer was struck by a water bottle. Some officers were wearing personal protection gear because agitators were throwing items at them."
Stockley, then a St. Louis officer, fatally shot Smith, 24, after a police chase in December 2011 over a suspected drug deal.
Stockley pleaded not guilty, saying he acted in self-defense and believed Smith was reaching for a gun in his car. Prosecutors accused the officer of planting a silver revolver to justify the shooting. The defendant waived his right to a jury trial, meaning the ruling was left to the judge.
"This Court, in conscience, cannot say that the State has proven every element of murder beyond a reasonable doubt, or that the State has proven beyond a reasonable doubt that the defendant did not act in self-defense," St. Louis Circuit Judge Timothy Wilson wrote in his ruling. Stockley also was acquitted of armed criminal action.
St. Louis Circuit Attorney Kimberly Gardner said she was "disappointed" by the decision.
Echoes of Ferguson as protests break out
"Right now, I'm just going to be honest, I pray for my city, man," Michael Brown said outside the courthouse Friday morning. "Because my people are tired of this." Brown is the father of Michael Brown, a young black man who was shot and killed by a police officer in nearby Ferguson, Missouri, in 2014.
Earlier this week, Smith's fiancée had urged the community to avoid violence.
"However it goes, I ask for peace," Christina Wilson said, appearing in a press conference with Missouri Gov. Eric Greitens.
Authorities had set up barricades around the courthouse and intensified security in preparation for protests, according to CNN affiliate KMOV.
"What the country needs to know is, every single person in our country, we have a right to be mad," said Al Watkins, an attorney for Smith's fiancée, Christina Wilson, after the verdict. "We have a right to disagree. We have a right to express our opinion. We have a right to protest."