When will Trump call white supremacists "losers"?
Dean Obeidallah | 9/15/2017, 9:59 p.m.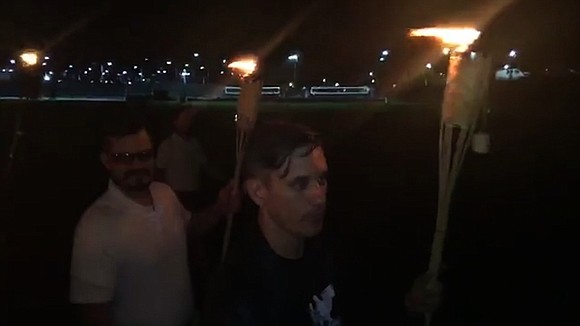 (CNN) -- "Another attack in London by a loser terrorist. These are sick and demented people who were in the sights of Scotland Yard. Must be proactive!"
That was just one of the tweets Donald Trump unleashed early Friday morning after it was reported that there was a terror attack on a London subway that wounded more than 20 people. Trump didn't wait days --or even hours -- before he slammed the terrorists involved as "losers" who are "sick and demented."
But why can't Trump use that language when it comes to denouncing white supremacists and neo-Nazis?! Why haven't we seen Trump tweet that white supremacists are "losers" or "sick and demented" people?! That would go a long way to making it clear that Trump is passionate about his criticism of them, which until now has only come after he has been shamed by the media and public.
It took Congress passing a bipartisan resolution in response to Charlottesville that expressly "rejects white nationalism, white supremacy, and neo-Nazism as hateful expressions of intolerance that are contradictory to the values that define the people of the United States" to force the President's hand. He signed the resolution on Thursday.
Trump's immediate and sharply worded tweet on Friday was in stark contrast to how he responded after the domestic terrorist attack in Charlottesville. It took Trump two days to denounce the Ku Klux Klan and neo-Nazis by name. But then stunningly -- a day after condemning their actions -- Trump told us there was "blame on both sides" and that there were "very fine people on both sides." That response brought Trump cheers from white supremacists like former Klan leader David Duke.
And even on Thursday, hours before signing Congress' resolution, Trump again diluted his criticism of the neo-Nazis by drawing a moral equivalence between them and protesters on the far left, saying both sides have "very bad people." That again emboldens white supremacists.
Do you think Trump believes there are "good people" on both sides of an ISIS attack? Of course not.
In fact, he used the recent London attacks to tout his travel ban on Twitter. He tweeted that "The travel ban into the United States should be far larger, tougher and more specific-but stupidly, that would not be politically correct!"
Well, if Trump is truly sincere about keeping Americans safe from all threats, he should also apply his travel ban and extreme vetting to keep foreign white supremacists and neo-Nazis out of America.
As part of the Trump administration's extreme vetting, they are now examining the social media accounts of people applying for visas to see if they have ties to ISIS-related groups. Well, they must do the same to determine if a person seeking to enter our country has any ties to white-supremacist or neo-Nazi organizations in their home countries.
No one wants anyone with ties to ISIS allowed in the United States. We must also guard against allowing those with ties to dangerous white supremacist groups from setting foot on our soil. They, too, are a potential threat to the people of our nation.